Guerrilla Protestors Storm the Guggenheim With a Message the Museum Can't Ignore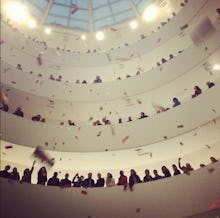 Announced by the soft chiming of a handbell and the high, keening wail of an unknown visitor, 9,000 bills wafted serenely through the New York Gugenheim's rotunda on Saturday in a colorful, surprisingly beautiful protest against the deplorable labor rights of workers building the museum's newest addition on Saadiyat Island in Abu Dhabi.
The protest took place during the museum's "pay what you will" hours, and was the most recent in a series of such actions at the Guggenheim led by Global Ultra Luxury Faction (G.U.L.F), a coalition of artists, students and academics who work to "safeguard migrant workers' rights."
According to G.U.L.F the new Abu Dhabi museum is being built by exploited migrant workers who are facing both ill treatment and economic exploitation. Guerrilla protests such as G.U.L.F.'s effectively spread the message to museum visitors while linking the two Guggenheims, one in New York, the other in the Middle East. 
Image Credit: GlobalGuggenheim.org
During this week's protest iteration, the museum was packed with patrons who not only were treated to the rain of bills, but also to posters and bills in the bathrooms and nearby subway stations.
Image Credit: Twitter 
Many of the bills read "What Does An Ethical Global Museum Look Like?" and "By the Authority of Shit Is Fucked Up & Bullshit," an allusion to protests staged on Wall Street in the 1960s by such '60s luminaries as Abbie Hoffman and the Yippies.
Image Credit: Twitter
The labor condition and treatment of migrant workers on Saadiyat Island is sadly a relatively well-kept secret, making G.U.L.F.'s effort to raise awareness all the more important and inspiring. G.U.L.F. has embarked on an initiative called "52 Weeks," in which members are spending one year protesting the deplorable working conditions on Abu Dhabi's Saadiyat (or "Island of Happiness").
The initiative began in October 2013, and participants are staging weekly protests to raise awareness of workers' conditions as they build the cultural sites on Abu Dhabi. A recent protest was the projection of "1% Museum," a slogan G.U.L.F.  projected on the Guggenheim to emphasize the inequality between those who are building it and those who visit it. 
Recent protests have also focused on the individual workers. In one instance, the group used images of a migrant worker's children and a handwritten note, presumably from the children, that reads: "We have only seen father once in life."
Image Credit: G.U.L.F.
Halfway through the 52 weeks, it's any guess what G.U.L.F. will do next. The bigger question remains, will their protesting efforts work. For now we can just hope, or join in the protests ourselves.