These Are the Black Emojis We've Been Waiting For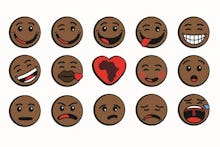 The news: While the Internet buzzed with news that Apple might consider adding a dash of "flava" to its conspicuously white emoji selection, an African mobile company said "f*ck it" and just did it:
Image Credit: International Business Times
The Root and International Business Times report that Oju Africa, a division of the company Mi-Fone, released a set of 15 darker-hued emoticons this week — which is about 15 more than Apple has, not counting homeboy with the turban or that Chinese-looking guy.
"We follow global trends but we are differentiated by our authentic African voice," said Eserick Fouché, Oju Africa's creative director. "So as a brand we wanted to do something that only Africa could pull off, something that could become so iconic that it would have the world talking."
The set is currently available at the Android Play Store — just search "oju emoticon app," duh — and an iOS version will be released "soon."
Why should I care? The debate around emoji diversity has been pretty heated lately, with important people like Miley Cyrus and Tahj Mowry (star of the '90s sitcom Smart Guy) tweeting their displeasure with how white Apple's 800-character set currently is.
In case you've been living in a cave on Saturn, here's a sampling:
Image Credit: ArsTechnica
As anyone who's watched slap boxing in Portland can attest, there's nothing inherently wrong with a bunch of white hands and faces flying around. But for a tech company as big as Apple to presume that all its UOCs ("users of color") are happy expressing their feels exclusively via cartoon versions of the Brady Bunch, I've got news: we most certainly are not.
And? When MTV Act submitted an inquiry to Apple asking what the hell is going on, corporate communications VP Katie Cotton responded:
"Our emoji characters are based on the Unicode standard, which is necessary for them to be displayed properly across many platforms. There needs to be more diversity in the emoji character set, and we have been working closely with the Unicode Consortium in an effort to update the standard."
Basically, "It's not our fault, blame Unicode."
For the record, Unicode is a company that standardizes how symbols are displayed on different tech platforms. If you try sending a Unicode symbol to a device that doesn't use Unicode, the symbol won't render correctly. But updating the Unicode symbol options — as Apple claims it's trying to do in order to diversify emojis — takes a long time ... potentially years.
And while it's cool that Oju Africa chose not to wait, problems still remain. For one thing, their 15-character set is currently just a duplicate of the yellow smiley-face emoji options, which no one seemed bothered by in the first place. The real point of contention remains the "human" emojis, whose facial features convey a distinctly Caucasian racial pattern.
People probably had something like this in mind when they said they wanted change:
Image Credit: Tri Branch, PolicyMic
But progress is progress, and this is something to applaud. Congrats to Oju for taking the initiative.