There's Something Really Eerie About Japan's Biggest Pop Star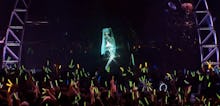 The news: Imagine you're a normal, pop-loving tween. Your Selena Gomez obsession is matched only by your encyclopedic knowledge of every One Direction member's favorite Backstreet Boy, or something. On a Saturday evening, your mom drops you off at a concert for Japan's biggest pop sensation: "Pick you up at 10," she says.
"You're so embarrassing!" you scream through gritted teeth.
Surrounded by your fellow fans, you tremble with anticipation as the lights go down. A glimmering song intro begins, hushing the crowd. Then this happens:
WTF? You are correct: That was not a human being. Hatsune Miku has performed over 100,000 original songs and has 1.8 million Facebook followers and counting — more than any other pop star in Japan, according to Japan Today. "She" sells out concerts worldwide and has acted as a brand "spokesperson" for Google, Toyota and Louis Vuitton.
But she's also a "digitally synthesized voice encapsulated in a crowd-sourced humanoid persona" — a singing hologram, put simply. And her voice is generated entirely from a synthesizer technology called "vocaloid."
"In Japan, there's a real sense of a hybrid of traditional culture and technology," says Hiroyuki Ito, founder of Crypton Future Media, Inc. — the company that created Miku. "I hope that Miku will help make things exciting for Japan, and its industry, the starting point of so much technology.
"We're going to expand and establish the Miku movement," he adds. "To put it in bigger words, to continue creating the future — not just to provide a place for people to integrate content, but to make a positive future."
The background: Launched in 2007, Miku quickly became Japan's top-selling software at the time, generating revenue upwards of 57.5 million yen (about $553,840) in the first month. Japan Today contributor Debbie Howard explains her popularity as a symptom of the nation's burgeoning "idol culture," wherein stars are worshipped and obsessed over as a form of "artificial intimacy." Miku is also a perfect blank slate for fans to project their wishes and desires onto: "[Her] 'life' and personality are left entirely for her consumers to draw up," Howard writes.
Miku's success raises fascinating questions about the future of pop music. In an age where star personae are increasingly constructed and controlled by record executives (the entire idea behind American Idol), why not have a pop idol built totally from scratch? She also provides a unique artistic opportunity, as any number of producers or musicians can create music using her as an avatar.
And her popularity isn't limited to Japan by any means: Most of her Facebook hits come from Mexico City, and her 2011 Los Angeles concert saw 5,000 live attendees and 160,000 online viewers. There's an entire restaurant in China devoted to her, and she's been the subject of fan fiction and "cyber weddings" (yes, you read that correctly).
How might the expansion of this technology look? We got a taste when deceased rapper Tupac Shakur "performed" via hologram with Dr. Dre and Snoop Dogg at 2012's Coachella music festival:
And Japan took things a step further when it proposed worldwide in-stadium hologram projections of soccer games as part of their World Cup 2022 hosting bid (they lost to Qatar):
So love it or hate it, it's only a matter of time before digitally generated performances and pop stars — like Miku — are as commonplace as human pop stars who can't sing. Welcome to the future.