12 Far-Flung Travel Destinations That Are Surprisingly Gay Friendly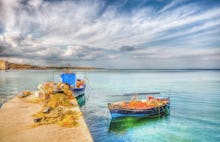 The gay travel industry is booming, in large part because of the increased worldwide acceptance of the LGBT community. From LGBT travel associations like Alt and the International Gay and Lesbian Travel Association (IGLTA), to LGBT cruise lines like Atlantis, Olivia and R Family Vacations, the gay and lesbian communities are becoming highly prized markets for the travel industry.
According to Merryn Johns, travel writer and Curve Magazine's editor-in-chief, "[G]ay men and lesbians take at least four leisure trips per year, which is higher than their heterosexual counterparts, and fewer than 10% of LGBTs take organized trips of any kind. This makes gays and lesbians more frequent and more adventurous travelers than straight people."
But LGBT travelers also seek different comforts. "Romance, seclusion and nature are important to lesbians when they travel, whereas gay men often seek out a scene or bars and clubs. While safety is important to lesbians when they travel, they ... seek romance, outdoor adventure, culture and value for money," she said in an interview with PolicyMic. "Not to mention some great beaches, which means they may seek out more exotic and far-flung destinations than other travelers."
The existence of Pride festivals is also a big influence, Johns noted.
While many are familiar with gay meccas like New York City, San Francisco, Paris, Berlin and Madrid, here are 12 other destinations that have become hot LGBT tourist spots, in large part due to a their acceptance of the LGBT community.
1. Bali, Indonesia
The lush paradise of Bali, also known as the "Island of the Gods," is adorned with mountains and beaches, Hindu temples and luxury resorts. Seminyak, a city in the south adjacent to Kuta Beach, has a large gay scene with numerous gay-owned and gay-friendly establishments. 
2. Stockholm, Sweden
Sweden's progressive social policies concerning LGBT and gender equality earned it the title of "Best International Destination of 2013" by Out Traveler.  
Of Stockholm, Sweden's capitol and largest city, the gay travel magazine said, it's "a cosmopolitan, hipster paradise with almost all of the pleasures that larger European cities like London and Paris offer (and London and Paris don't have an ABBA museum or a gay-themed Christmas celebration)."
3. Copenhagen, Denmark
Out Traveler voted Copenhagen "the travel destination of the future" in 2013 for being "the center of New Nordic Cuisine and the home of the bi-annual food festival Copenhagen Cooking, [as well as] a growing fashion center." Home to arguably the happiest people on earth, gay and lesbian travelers can whimsically traipse through the medieval alleys of the "Indre By" or City Center, "sip coffee at the laid back cafés in Elmegade, or explore the former no-go-area of Jægersborggade, which has turned into a haven for artisan workshops."
4. Buenos Aires, Argentina
The "Paris of South America" has actually been a gay and lesbian tourist spot for over a decade. Buenos Aires, gay travel writer Michael Luongo describes, is one of the sexiest and most sophisticated gay destinations. Since 2010, with the legalization of gay marriage in Argentina, these numbers exponentially increased, and businesses in Buenos Aires have bent over backwards to accommodate and welcome their LGBT clientele. 
5. Taipei, Taiwan
Misty mountains, tea shrubs and polytheistic temples adorn Taipei, Taiwan's capitol city. Because of its gay-friendly policies, which have resulted in the largest population of LGBT travelers in the region, Taipei has been dubbed "the San Francisco of Asia" by the Taipei Times, which noted the city was particularly popular with gay tourists from Japan, South Korea, Hong Kong, Singapore, Malaysia and Australia.
The city's massive Pride event doesn't hurt. Tens of thousands of participants march in the parade each year, making it one of the largest in Asia.
6. Curaçao, Dutch Antilles
Its motto "Biba i laga Biba" means "live and let live," and Curaçao's culture of joyful acceptance is mirrored in its respect and active courting of the LGBT community — notably a byproduct of its colonization by the Dutch.
This island is famous for its pristine beaches and its crystal clear, blue waters, but it also has the reputation of not being your typical Caribbean tourist trap, making it highly touted as the best gay travel destination in the region. 
7. Bhutan
This remote spiritual haven nested in the Himalayas is luxurious in large part because it is so exclusive: In order to maintain "Gross National Happiness," the Bhutanese government restricts the number of tourists allowed in Bhutan annually. The sight of the Taktsang Monastery, clinging to a 3,000-foot rock cliff that plunges into the valley below is worth the trip alone for the spiritual traveler. 
Despite a somewhat conservative government, Bhutan has been slowly liberalizing and is gaining a reputation as being more gay friendly in practice.
8. Cape Town, South Africa
Listed as one of the New York Times "Top 52 Places to Go" in 2014, Cape Town is one of the most gay-friendly tourist spots. While notorious for its homophobic violence in the past, the nationwide legalization of gay marriage in South Africa has enabled Cape Town to undergo a sea change much-observed by the gay traveler.
In the past couple of years, Cape Town has been repeatedly voted "one of the friendliest gay capitals in the world," and, according to GayTravel.com, "absolutely the gayest city on the African continent." 
9. Skala Eressos (Lesvos), Greece
Isle of Lesbos, home of the poet Sappho, has enchanted lesbians for decades. Each September, the island hosts the International Eressos Women's Festival which "celebrates the history, culture, achievements and diversity of women." Located in the Aegean Sea, Lesvos' stunning landscape is decorated with olive groves and punctuated with architecture reminiscent of its rich Greek history.
10. Sydney, Australia
As if the hundreds of thousands of people who annually descend into Sydney for its Gay Mardi Gras weren't enough, the capitol city of New South Wales is also Australia's cultural capitol, embodied by the acclaimed Sydney Opera House. Globally recognized as LGBT-friendly, along with Melbourne and the Gold Coast, Sydney offers cosmopolitan charm punctuated by its unparalleled natural landscape of beaches, its famed harbour and its Blue Mountains to the west.
11. Reykjavik, Iceland
Iceland's progressive social attitude is evident in its LGBT policies  — gay marriage was legalized in 2010, and it has the most trans-friendly legislation in the world — and symbolically apparent in that it was formerly run by a lesbian, Jóhanna Sigurðardóttir. Whether taking a dip in one of the many healing spas or catching a glimpse of the northern lights, Iceland's capitol city of Reykjavik is a known gay metropolis, serving as host of the annual Rainbow Reykjavik LGBT International Winter Festival.
12. Sardinia, Italy
Steele Travel, the gay luxury travel company, began offering packages to Sardinia around five years ago, signifying Corsica's island cousin as a gay tourism hot spot. In a 2013 survey by Alt, Sardinia was named the "Most Opulent Destination" for its five-star accommodations — and yachts!