This Real-Life Couple Had a Televised Gay Wedding Musical — And It Was Awesome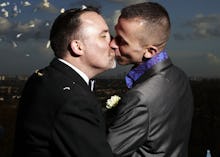 How do people in U.K. celebrate the legalization of gay marriage? They make a gay wedding musical and televise it! 
British broadcaster Channel 4 decided to coincide Our Gay Wedding – the Musical  with a historic moment in the country's history as same-sex marriage became legal across the country last Friday at midnight. The grooms, composer Benjamin Till and actor Nathan Taylor, sang vows that they had written and composed themselves. But that wasn't all — the surprisingly touching program included musical numbers from friends, family and even  a duet from both of their moms talking about how it felt when their children came out. 
The joyous proceedings were hosted by none other than comedian and longtime LGBT activist Stephen Fry, a master of ceremonies who introduced the ceremony by proclaiming "We the gays can get married, not a civil partnership, the works, full equality!" 
The beginning of the musical was mostly back story, introducing everything from stats about gay marriage around the world to the story of how Taylor and Till met 12 years earlier.
When the grooms prepared to walk the aisle they sang, "I may not always love you but long as there are schools who love you, you never need to doubt it, I'll make you sure about it. God only knows what I'll do without you."
Image Credit: Channel 4
The musical event required an impressive amount of preparation to pull off. All 200 guests that attended the ceremony were supposed to learn at least two compositions, and groom Till said that he spent 120 hours in the recording studio. 
The party ended with the guests and then a montage of celebrities chanting the slogan "Love is Everyone." Celebrities including photographer Sharon Bushman, cabaret singer Alex Cumming and many prominent LGBT champions sent in their wishes for the video.  
After it was broadcast on Wednesday, there was an outpouring of love on social media for the newlyweds, as well as for the concept. 
Mazel tov!