13 Photos Proving Feminism Isn't Just for Straight White Women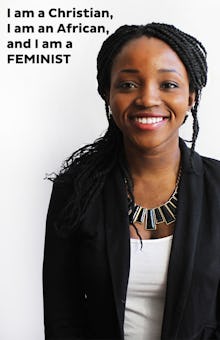 As a movement centered on political and social equality, feminism has never advocated for exclusion or segregation based on the sexes. Yet since the late 1970s, when feminism in America and abroad was in its heyday, the movement encountered resistance in the form of discursive warfare. The opponents, at least in America, won. In fact, throughout history, American women's rights movements have failed when they lose control of the narrative, becoming nothing more than caricatured "man-hating lesbians," "Feminazis" or "sluts."
There are the cultural misconceptions of feminism that bubble up in pop culture misconstrue the backbone of the movement, which entails craving political equality among the sexes and nothing else. Or, as Katy Perry miraculously realized, after years of shunning feminism, "I used to not really understand what that word meant, and now that I do, it just means that I love myself as a female and I also love men."
A new photo campaign initiated by the McGill Law Feminists at McGill University puts a face to the reality of the movement's diversity in the 21st century, moving away from the old stereotype of the straight, white, cisgendered feminist. It is this diversity that embodies the spirit of a progressive feminism — one which is defined by the celebration of difference — and demonstrates the movement's latest incarnation.
1.
2.
3.
4.
5.
6.
7.
8.
9.
10.
11.
12.
13.