There's a New Most Eligible Bachelor On the Market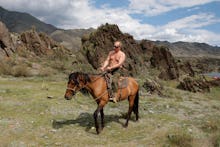 Things have been going well for Vladimir Putin. The Russian president's approval rating is at a staggering 80%, his country hosted and won the 2014 Winter Olympics and the Crimean peninsula has been annexed. And now there's something else to add to the list: on Wednesday, the Kremlin announced that the 61-year-old Putin is officially a bachelor.
It was first announced last June that Putin would be leaving Lyudmila Putin, his wife of 30 years and the mother of his two grown daughters. Though the announcement was just made this week, rumors have been circulating that the divorce was actually finalized a while back but that the Kremlin held off until now to ride wave of good publicity Putin has been enjoying in Russia.
But for the ladies out there who want a slice of the Russian beefcake, you might be out of luck: for years, Putin has been linked to Olympic gymnast Alina Kabayeva as well as model Anna Chapman, the infamous Russian spy captured by the U.S. in 2010. 
If you have any doubts concerning Putin's status as Russia's number one bachelor, just feast your eyes on the pictures below:
Image Credit: AP
Image Credit: AP
Image Credit: AP
The Russian president is an avid outdoorsman, often going shirtless on his adventures. He's handy with a gun and even stopped a tiger attack by shooting a tranquilizer.
And when he's not showing off his macho prowess by hunting animals, he's cuddling them:
Image Credit: AP
Image Credit: AP
Image Credit: AP
And remember that time he actually strapped himself into a hang glider to teach endangered Siberian cranes how to migrate? If that's not husband material, what is?
Image Credit: AP
Putin had better be waiting on a call from ABC producers — if Ukraine can have its own Bachelor spinoff, why not Russia?