A Simple Street Art Project Is Becoming a Movement to Fight Sexism in Big Cities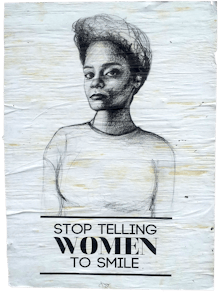 For many women who live or spend time in large cities, street harassment is a frustrating, even daily, occurrence.
From whistles and leers to gender-policing, unsolicited comments and vulgar gestures, street harassment is a human rights issue that includes racism, homophobia, transphobia and other prejudices to create multi-layered harassment. But the way we talk about this very real form of harassment is changing, thanks in part to the efforts of activists like Brooklyn-based artist Tatyana Fazlalizadeh. Fazlalizadeh's powerful new art project called "Stop Telling Women to Smile" aims to break the silence around street harassment and encourage women to fight back.
Like other forms of gender-based discrimination, women are often blamed for of street harassment based on what they were wearing, where they were or what time of day the harassment took place. This narrative is destructive, not to mention inaccurate.
Wanting to address the topic for some time and having experienced street harassment herself for years, Fazlalizadeh decided to channel her frustrations through a public portrait series. She depicts female subjects in strong poses paired with lines of texts addressing their harassers: "My name is not baby," "Women are not outside for your entertainment," "I am not your property." Street harassment is an issue of control over women's bodies, and the project potently validates women's experiences and advocates for the basic right to feel comfortable, safe and unsexualized in daily life.
The project, which began in Brooklyn and Philadelphia,is an ongoing, traveling series that the artist hopes will soon include many cities and participants. Reflecting on the importance of creating new work on this topic in different locales, Fazlalizadeh says, "What happens in Bed-Stuy will differ from what happens in Oakland, or Kansas City. It's important for me to learn about these differences and create work that will resonate better within a particular community."
As part of International Anti-Street Harassment Week, STWTS is organizing an international wheat pasting night on Friday. Individuals and organizations around the world are encouraged to form STWTS wheat pasting groups and a PDF will be released in order to download and print posters. These unsmiling faces will serve as a reminder that violence and harassment against women and girls in public spaces is not a punchline, is not a compliment and is never acceptable.
Image Credit (all): Tatyana Fazlalizadeh