The Library of Congress' Annual List of Most Important Music Completely Ignores Rap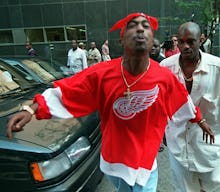 A couple days ago, the Library of Congress announced the 25 newest additions to their ever-growing vault of American music. There are some highly deserving additions to the library, such as Isaac Hayes' soundtrack to Shaft, Creedence Clearwater Revival's "Fortunate Son" and U2's Joshua Tree, but there was one major oversight.
On a list that included artists like Buck Owens and the Buckaroos, there wasn't a single rapper represented.
It turns out the Library of Congress has been slighting hip-hop for a little while. It currently only preserves five items from the genre out of hundreds of entries.
Again, that's five items to represent the most popular genre of the last couple of decades.
The requirements for admission into the Library of Congress vaults are that the music be more than 10 years old and that it be "culturally, historically or aesthetically significant." So here are five hip-hop albums and songs made more than 10 years ago that aren't, you know, culturally significant or anything.
1. "Juicy" by The Notorious B.I.G.
This is perhaps the most well-known rap song ever written. I would venture to guess that everyone under the age of 35 knows at least one line of lyrics to this song.
And beautiful as it is, I doubt that the same could be said for new addition Jeff Buckley's cover of "Hallejuah."
2. 'Endtroducing.....' by DJ Shadow
The Library of Congress was apparently very impressed by the "tape loops" used on the Everly Brothers' "Cathy's Clown."
DJ Shadow's Endtroducing..... is the first popular album constructed entirely of samples. The album's impact on the development of hip-hop and electronic music is immeasurable, and the variety of sounds Shadow deftly recreated and revolutionized with nothing more than tape loops is still awe-inspiring.
3. 'The Miseducation of Lauryn Hill' by Lauryn Hill
All the language used to explain the selection of Harry MacDonough — "Elegant, charming and unexpected," "an enormous hit" that "accelerated [Jerome] Kern's career" — is even better suited to Lauryn Hill's masterpiece The Miseducation of Lauryn Hill.
It remains one of the most captivating and personal R&B/hip-hop records ever recorded. It launched Lauryn Hill into superstardom, whether she wanted it to or not.
4. 'Reasonable Doubt' by Jay-Z
Reasonable Doubt launched the career of one of the most prolific and celebrated artists of our day. Jay-Z is currently second only to the Beatles for most No. 1 albums.
So it's pretty mind-boggling that no Jay-Z album is being preserved. This album especially was an earth-shattering achievement of aesthetic and social value.
5. 'The College Dropout' by Kanye West
Kanye West's groundbreaking debut shook many of the preestablished tropes of hip-hop music to their core. He single-handedly proved that a rapper did not have to be a gangster to be a hit with American audiences. He talked about God, and his record got played.
Kanye's records created a mainstream taste for socially conscious rap that eventually gave us rappers like Drake, Macklemore and Kendrick Lamar, all of whom have cited Kanye as an influence.
But maybe that wasn't significant enough for the Library of Congress to reward.