America May Be the Richest, But 15 Countries Rank Higher In Something Even More Important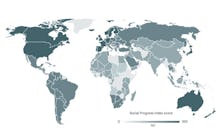 America is by far the richest country in the world with a 2012 GDP of $15,684 billion. But when it comes to measures of social well-being, the United States isn't number one. In fact, it's not even in the top 10 — it's 16th.
According to new rankings from the Social Progress Imperative and Harvard Business School Professor Michael Porter, America has a lot of work to do.
The study, which ranks countries according to their "Social Progress Index," measures how well a nation is doing by its citizens by including not just wealth but variables like "personal safety, ecosystem sustainability, health and wellness, shelter, sanitation, equality and inclusion, and personal freedom and choice."
Each of the metrics is tied to concrete, measurable outcomes like literacy, cancer deaths, etc. The results can be viewed below (click to enlarge):
Yep - New Zealand is, apparently, number one, followed in the top 10 by Switzerland, Iceland, the Netherlands, Norway, Sweden, Canada, Finland, Denmark, and Australia. The U.S. is 16th, doing quite well in meeting basic standards of living but being dragged down by poor scores in "foundations of wellbeing," ecological sustainability, health and wellness, and tolerance/inclusion.
Worst is the Republic of Chad in central Africa, which has the lowest fulfillment of basic human needs of any country listed (click to enlarge):
It seems that while measures of wealth like GDP can propel a country into the higher echelons of wellbeing, but aren't the whole story.
"It seems that basic human needs are actually most responsive to economic growth," Michael Green, executive director of the index, told Fast Company. "Economic growth gives you the basic stuff to feed a population, get basic shelter, get vaccinated. But on foundations of well-being, there's a slightly looser correlation."
"The index shows that economic growth does not automatically lead to social progress," he told Reuters. "If we are to tackle problems such as poverty and inequality, it shows that measuring economic growth alone is not enough."
One key feature of the SPI compared to GDP is that it can inform policymakers in which areas a country is failing, while GDP can only measure raw output. Thus, SPI can be a useful planning tool and provide insights into the difficulties even advanced economies face compared to their competitors.
The Social Progress Imperative also included this short video, narrated with a delightful New Zealand accent: