The Key Traits of Every Global Smash Hit Song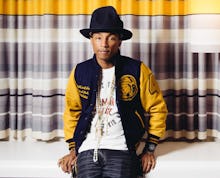 "Happy" may have come out as part of the soundtrack to an American animated film, but since then it's become an international anthem. In the past few months alone, 110 countries have made more than 1,100 videos to celebrate the song. That's about 4,048 global minutes of happiness, each one crossing language barriers in a way few works of art can.
There's a reason songs like "Happy" become universal. You can't predict a smash hit, but there are certain things that make a song ready for the whole world. You don't need conservatory training to see that there are a few secret lyrical, musical and conceptual ingredients that almost always go into worldwide chart-toppers. Here are seven of the most frequently found:
1. You have to repeat the title. A lot.
Pharrell's "Happy" has found worldwide success in part because of an ace marketing campaign, which has it featured in both a hit film and an innovative 24-hour video.
But it's also burrowed its way into fans' ears with the constant repetition of its title phrase, which is sung more than 30 times on the song. Even if you don't speak English, it's hard to miss the point of "Happy." Pharrell is happy. Simple as that.
From Lady Gaga's "Poker Face" to Psy's "Gangnam Style," internationally renowned artists have used this same technique to spread their singles around the globe, wedging their songs' titles in everyone's heads for days by repeating them incessantly. On Gaga singles, the title routinely appears more than 20 times.
2. It has to be sung to someone.
Whether it's a song about falling in love or breaking up, almost every global smash is addressed to another person. That's because everywhere in the world, music is a way to connect. It's a way to communicate.
On worldwide hits like Bruno Mars' "Grenade," lines like the (melodramatic and wonderful) "I'd jump in front of a train for you" helped it perform wildly on charts everywhere from New Zealand to Slovakia to South Korea. The same principle partially explains the iron grip of Taylor Swift's "We Are Never Ever Getting Back Together," too. In each case, the pop song gives the listener a way to speak.
3. The melodies are one-note, repeated.
Speaking of repetition, nothing conveys a song's lyrics to the audience better than a repeated, single-note melody.
Seriously, check out the verse to Robin Thicke's "Blurred Lines," or any Lady Gaga song for that matter. It helps that "Happy" is an indomitably catchy song. But songs like "Blurred Lines," which topped charts in Spain, the Netherlands and Poland, are catchy by virtue of their simplicity. That song's chorus is just a collection of phrases sung on different single notes ("good girl," "blurred lines"). Even if it weren't an insane groove, you'd have a pretty easy time remembering the song.
4. You can imagine yourself singing it.
A true global hit has to make listeners around the world feel like part of the musical community. Often, songwriters invite that sort of feeling by backing up lead melodies with a chorus of voices. On K'naan's 2010 smash "Wavin' Flag," a powerful choir backs up the Somali-Canadian artist, kind of like a powerful chorus of vuvuzelas would back him up all World Cup long.
From Pharrell's rich chorus on "Happy" (and "Blurred Lines," for that matter) to artists such as Macklemore & Ryan Lewis bringing in guests to deliver the most indelible part of a song, huge global hits succeed by making the music sound communal even before it's everywhere.
5. You don't need to know any language at all.
To be a truly global hit, a song has to break the language barrier. Many smash hits, like Pitbull's "Timber ft. Ke$ha" (top 10 in Croatia, Austria, Australia, Belgium, France, Lebanon, Israel, Thailand and Venezuela, among others), accomplish the task with the help of a strong wordless hook that uses a syllable like "ooh" or "oh."
If you've ever tried to get the post-chorus hook from Katy Perry's "Roar" out of your head, you know the technique works.
6. Everyone likes to be surprised.
Music theory buffs will understand syncopation as a disruption of the beat, or a placement of things on the "off-beat." Pop music fans will understand syncopation as a call to the dance floor.
Syncopated tracks crackle with a simple energy that's easily understood anywhere in the world. The synths and drums on LMFAO's "Party Rock Anthem," which made it to No. 1 on four continents, are a strong example of this phenomenon. Check out, in particular, the synths behind the chorus. The skittery rhythms mean the song is constantly surprising you, keeping you literally on your toes. 
You can find syncopated synths everywhere, behind artists from Rihanna to Gaga.
7. But they also like hearing the same thing over and over again.
Pharrell's other other global smash, Daft Punk's "Get Lucky," has been lighting up dance floors since it first dropped in April 2013. The song just never seems to get old. That's especially interesting when you consider that it cycles through the same four chords the whole time. Four minutes without any variation at all.
For the record, this is a list of countries where it hit No. 1 on one of the charts: Argentina, Australia, Austria, Belgium, Canada, Denmark, France, Germany, Greece, Hungary, Ireland, Israel, Italy, Japan, Lebanon, Luxembourg, Mexico (English chart), Norway, Poland, Romania, Scotland, South Korea, Spain, Sweden, Switzerland, England, the United States and Venezuela.
Even songs that have an even more pronounced verse-chorus structure, like Rihanna's "Diamonds," will often still stick to the same chord progression throughout, letting their melodies catch a listener's ear through slight variation. This harmonic consistency can help keep a song inviting and comfortable to get down to, even as the melody changes and robot voices intervene.
But if there's one other rule of global pop hits, it's that Pharrell is behind them. Because good lord.