This Baseball Player Just Got Slammed for Missing Two Games to Witness Son's Birth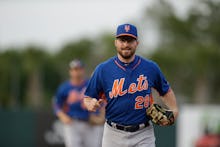 Upon learning that his wife was in labor on Monday, Mets second baseman Daniel Murphy, 29, took advantage of Major League Baseball's three day paternity leave policy to fly to Florida and be with his new family. But because witnessing the birth of his first child resulted in Murphy missing a whopping two whole baseball games, sports talk show hosts proceeded to eviscerate the player on air for his decision.
Former NFL quarterback Boomer Esiason, a father of two, said on his morning show Boomer and Carton, "Quite frankly I would've said 'C-section before the season starts. I need to be at opening day. I'm sorry, this is what makes our money ... I'll be able to afford any college I want to send my kid to because I'm a baseball player.'"
Co-host Craig Carton similarly lacked sympathy for Murphy, adding, "To me, and this is just my sensibility, assuming the birth went well, assuming your wife is fine, assuming the baby is fine — 24 hours, you stay there, baby is good, you have a good support system for the mom and the baby, you get your ass back to your team and you play baseball."
Well then. If ever we needed clear proof of how sexism and strict gender roles hurt men, too, we've got it.
Putting aside for a moment the fact that a C-section is a major surgery that shouldn't be scheduled on a whim just to better accomodate your husband's schedule, these hosts completely invalidated the important role a father can have in his child's life.
Boomer and Carton weren't the only ones criticising Murphy, either. WFAN afternoon host Mike Francesa also mocked the player's decision, saying, "[O]ne day, go see the baby be born and come back. You're a Major League Baseball player. You can hire a nurse to take care of the baby if your wife needs help."
When callers dialed the show to counter Francesa, he just doubled down. "What are you going to do? I mean you are going to sit there and look at your wife in a hospital bed for two days?"
MLB's paternity leave policy was adopted as part of a collective bargaining agreement in 2011, and the organization is sticking by Murphy. It said in a statement, "MLB and the Players Association began the paternity list in 2011 so that players could be with their families for an extraordinary time in their lives."
Murphy also defended his decision: "My wife and I discussed it, and we felt the best thing for our family was for me to try to stay for an extra day, that being Wednesday, due to the fact that she can't travel for two weeks ... just to have that support system with her."
Not every father has the leeway to do what Murphy did. The U.S. is miserably behind the rest of the world when it comes to paid parental leave, and paternity leave in particular is still not widely accepted in the workplace. Men are so often lauded for what are apparently surprising displays of "mom-like" behavior because society has yet to completely accept them as engaged co-parents, rather than just financial providers.
Esiason has apologized for his comments, but this kind of talk encourages damaging hyper-masculinity that treats men like robotic breadwinners and denies them of their right to act in a nurturing, more stereotypically feminine way. Dads, just like moms, deserve time to bond with their newborn children and adjust to their roles. And no matter how much money it makes you, baseball is not actually more important than childbirth. Murphy may play baseball for a few more years, but he'll be a father forever.