This Response by Honey Maid to Homophobic Haters Is Brilliant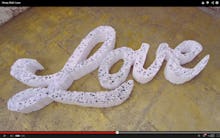 When Honey Maid released its "This is Wholesome" graham crackers commercial last month, advocacy groups that didn't like the depicted same-sex and biracial families penned their grievances to the food company.
The American Decency Association called the commercial the work of Satan, decrying its "evil agenda." One Million Moms said Nabisco should be "ashamed" of itself for its "attempt to normalize sin," "promote homosexuality" and "push the LGBT agenda," calling on others to boycott Nabisco products and write to its executives. 
So Honey Maid decided to make a video specifically for disgruntled groups such as these, putting to all those vitriolic letters to good use.
The company hired two artists to turn the hate, quite literally, into love. They rolled up all the nasty letters — the words "horrible," not wholesome" and "disgusting" are visible in the video — and glued them together to make the word "love."
But that's not all: Honey Maid said it received more than 10 times as many positive than negative comments. We see snippets of those that say "family is family," "makes my heart happy" and "best (d)ad ever." So the artists rolled up these letters too and slotted them in among the letters of "love" composed of letters of hate. 
In this highly polarized age, it can sometimes seem like the concept of discourse has devolved into various groups just shouting at each other across the divide, which is why Honey Maid's response is so powerful. That's one way to deal with haters — turn their negativity into love, then surround it with more love — and it is pretty wholesome. 
Here's the original ad. Prepare for warm fuzzy feelings.