If Our Generation Had Its Own Woodstock, This Is What It Would Look Like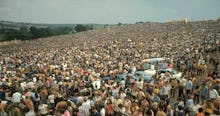 In August 1969, half a million people converged on a farm near Bethel, NY for what would become the most legendary concert in rock n' roll history. Its sheer scale was unplanned, its legacy even more so. And when the hippies began descending on Max Yasgur's dairy farm that summer weekend, no one could have predicted that we'd still be talking about them 45 years later.
It's easy to romanticize the ethos behind the original festival and the revolutionary politics of both performers and audience. But there was actually something to it: an emancipatory and alternative politics at play often lacking in contemporary pop music , an urgency stemming from the Vietnam war and the growing chasm between the politics of hippies, freaks and drop-outs and those of their parents. It's telling that the most iconic moment of the festival was Jimi Hendrix's reinvention of "The Star Spangled Banner" — a transformation from anthem to anti-anthem.
But if our generation tried pulling off Woodstock, we'd fail miserably. In the decades that followed, the legacy of the original festival has been sanitized and distorted. Woodstock '94 was a mere shadow of its predecessor, comprised largely of surviving performers from the original. And the 1999 festival deteriorated into chaos and riots, further tainting the Woodstock name. In the last couple decades, our generation has offered no one who capable of taking up the mantle: many forget that the original Woodstock was meant to prove both the possibility of alternative lifestyles and their necessity for the planet's survival. We feel that more than ever now, but somewhere along the line we've lost our protest songs.
Today, most major stars only become "political" when the blogosphere labels them as such. Bloggers seek out — and find — sprinkles of feminist or LGBT-activist politics at play in the songs of a Miley Cyrus or Katy Perry, and these stars have realized that being political is an effective way to sell records. Today, the political activism of most rock and pop stars can feel more like corporate-sponsored opportunism, designed to appeal to the lowest common political denominator among the target audience.
It's more than a little depressing to think Lady Gaga may be Woodstock 2014's most controversial performer merely because she might vomit on somebody onstage. Compare "Born This Way" to the "I Feel Like I'm Fixin' To Die Rag" by Country Joe and the Fish: "1 2 3 4 what are we fighting for" — as simple as it was — had far greater resonance than a dress made of meat. And while Gaga aims higher as far as popularity is concerned, true stars hope to say what they mean, not what people want to hear.
Today, the President calls the "voice of this generation" a "jackass," not the other way around. The last major star to tell a President to go fuck himself was Neil Young, who released an unambiguous single called "Let's Impeach the President" back in 2006. And of course, he was one of the big acts at Woodstock '69.
When I envision Woodstock 2014, I see wall-to-wall corporate sponsorship, overpriced vegan hotdogs and moms. Wall-to-wall moms — my mom, your mom, and the moms of everyone you know. A decade of American Idol has ensured that my mom has a level of pop culture literacy and fandom that far surpasses my own, and why shouldn't she? There's no revolutionary politics at work here.