George Bush Painted Some (Actually Really Good) Portraits of World Leaders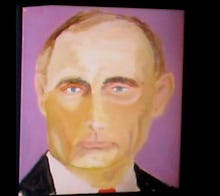 Mark your calendars, art lovers, and book those tickets to Dallas: former President George W. Bush is making his formal debut as an exhibited painter.
"The Art of Leadership: A President's Personal Diplomacy" opens this month at the George W. Bush Presidential Library and Museum. The exhibition will feature portraits by "43" of prominent figures such as former British Prime Minister Tony Blair, current Russian President Vladimir Putin and Bush's father, former U.S. President George H. W. Bush, as well as "artifacts, photographs and personal reflections to help illustrate the stories of relationships formed on the world stage."
Portraits of world leaders by George W. Bush
"I hope [these world leaders] take it in the spirit in which these were painted in," Bush said. "That was the spirit of friendship and that I admire them as leaders and was willing to give it a shot in terms of getting people to see how I felt about them."
Portrait of Tony Blair by George W. Bush. 
Bush has been known to also paint legions of dogs as well as bathroom self-portraits, though these will not be included in this exhibition.
Image Credit: Twitter
In an interview on Today with daughter Jenna Bush Hager, Bush credited his interest in painting to WWII-era British Prime Minister Winston Churchill's 1948 work Painting as a Pastime.
The exhibit, Bush's first for the general public, has already attracted the attention of art critics at the New York Times and the Guardian. What lessons can Bush's work offer his audience?
Stay diplomatic, presumably: Don't paint your wife.
If you're unable to make it to Dallas for his exhibition, don't worry: You can still save up for a holiday trip to see the upcoming "All Creatures Great and Small: Christmas at the White House 2002," which will celebrate "the important role animals play in the White House."