The Unexpected Way One Young Activist Is Helping Homeless LGBTQ Youth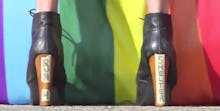 Black leather five-inch heels; not your conventional running shoes, but a crucial piece of my charity run ensemble this past December. What my heels lacked in practicality, they more than made up for in purpose.
A year and a half ago, while I was living in New York City, Hurricane Sandy destroyed the Ali Forney Center, a leading shelter for homeless LGBTQ youth. After I heard about what happened, I decided that I needed to do something to help out.
So I put my extensive high heel collection to good use, and I was able to raise over $11,000 for the center by running across the Brooklyn Bridge in stilettos. Today, thanks to the Internet, crowdfunding, and other tools, we have more power than ever before to make a positive difference on issues we care about. Leveraging these platforms (no pun intended), not only was I able to raise funds, but I was also able to increase awareness about the disproportionately high rate of homelessness among LGBTQ youth.
Through the Run for Shelter, I found a way to combine my passion for LGBTQ justice with my penchant for strutting in high heels. More importantly, as a queer undergraduate student at an elite university, I decided to do a fundraiser for homeless LGBTQ youth because I realized that, with different luck, I too could have ended up homeless. If my parents would have thrown me out of the house for being queer, I could have ended up on the streets. And for so many LGBTQ youth across the country, that's what happens.
According to the New York City Department of Youth and Community Development, although LGBTQ youth make up only about 10 percent of the youth population, they represent an estimated 20 percent of homeless youth. This over-representation isn't unique to New York City. In fact, in a recent national survey conducted by The Palette Fund, True Colors Fund, and the Williams Institute, homeless youth organizations reported that 30 to 43 percent of the clients they served identified as LGBTQ.
Family rejection and abuse are among the most common causes of LGBTQ youth homelessness. Imagine being kicked out of your house or forced to leave because your family refuses to respect and affirm your sexual orientation or gender identity. Imagine having to drop out of school because your classmates assaulted you and your teachers did nothing to stop it. Hopefully, you are just imagining these situations. For far too many young people across the country, these experiences are a reality.
To make matters worse, the resources available to LGBTQ homeless youth are limited, and many are inadequate. Again, imagine going to a homeless shelter for help, only to learn that they do not provide housing for people under the age of 16. Then imagine finally making it off of the waiting list in your town's only shelter for youth (if your hometown even has a shelter for homeless youth), only to be assaulted by the other youth in the shelter because of your sexual or gender identity.
We have to do more to address the unique challenges facing LGBTQ youth. That's why I decided to participate in the 2014 meeting of the Clinton Global Initiative University (CGIU). Given the success of the initial Run for Shelter, I realized that I can do a lot more to address LGBTQ youth homelessness. Accordingly, through attending CGIU, my friends and I have committed to launching a National Run for Shelter later this year. Starting in August, my friends and I will bring high-heel runs to 10 cities across the country in order to raise funds to assist homeless LGBTQ youth and increase awareness about this problem.
And we're going to do it in the queerest way that we possibly can. In each city that we go to, we'll be running a mile in five-inch heels with members of the local community. In addition to the run, we'll be holding town hall meetings to challenge local homeless service providers, LGBTQ advocacy groups, and service organizations to think creatively about new ways to improve the lives of homeless LGBTQ youth in their community.
Despite what public discourse might have you think, the issues facing the LGBTQ community extend beyond marriage and workplace discrimination, permeating all facets of life. From the prison-industrial complex to the school-to-prison pipeline, from homelessness to hunger, and from healthcare to HIV/AIDS prevention, LGBTQ people are uniquely discriminated against and denied access to critical services and programs.
It's time to bring these issues out of the shadows and take concrete action to address homelessness in the LGBTQ community. We can all do our part to make the world a safer and more affirming place for LGBTQ youth, especially if we do it in heels.