15 Beautiful Indie Concert Posters That Could Pass as Fine Art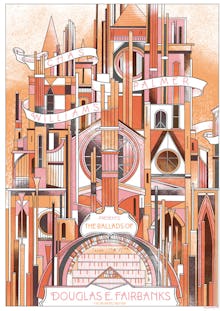 Decades ago, when rock was young, the idea that it would become an art form would've been offensive to most of an older generation. The idea that rock posters would one day wind up in the Met would probably have given most of them a heart attack.
Even today, concert posters are overlooked or left to curl and yellow on dorm room walls. But concert art has evolved to an even higher form of art now than ever before. Though a lot of merchandise has gone the way of perfumes and rubber wrist bands, there's a vibrant culture of beautiful art amongst some of our favorite indie musicians.
These artists are not only capturing a band's sound, but they're also proving that concert posters are a form of fine art. Here are the great concert poster artists and their work:
1. Todd Slater (The Avett Brothers)
Only in 2014 could a two-piece indie folk rock band play the Barclays Center.
But they haven't sacrificed anything to get there. They still write dark, bold songs and Todd Slater's gothic poster perfectly captures the band's new album, Magpie and the Dandelion.
2. Blake Jones (The Faint)
The Faint, often linked to Bright Eyes for Conor Oberst's erstwhile participation, is back with a fury and some fierce anti-establishment music.
To capture the group's new sound, artist Blake Jones similarly doesn't hold back, using bold colors and geometric shapes for the band's latest gig poster.
3. Matthew Fleming (Josh Ritter)
Josh Ritter's songs live by their images. There's the girl with eyes like champagne in "Girl in the War," or the mummy with the dried fig heart in "The Curse."
This poster has a perfect sensibility for Ritter's small, elegant moments — the twinkle of blown snow, caught in the light.
4. Les Herman (The Orwells)
For The Orwells' gig poster, artist Les Herman channeled a little Aubrey Beardsley. Hidden in the swirls of the poster on this woman's stockinged legs is the name of the band, as well as the place, date and time of their show.
Basically, it's the least informative poster ever. But it's totally beautiful.
5. James Schaaf (Jeff Tweedy)
Jeff Tweedy is best known as the founding member of the alt-rock band Wilco, but in recent years he has branched out more on his own as a folk hero (and sketch comic on Portlandia).
So, when it comes to representing Tweedy's mix of country and experimental influences, a barn, a godly hand, an abducted cow and a spaceship that also resembles a cowboy hat seem on point.
6. Petros Voulgaris (Matt Elliott)
The folk guitarist behind pained songs such as "Dust Flesh and Bones" gets the art nouveau treatment — sad, beautiful and full of longing, just like his songs.
7. Matt Pfahlert (Mike Gordon)
You may recognize Mike Gordon's name; he was a founding member of Phish.
For the musician's Northwestern tour, artist Matt Pfahlert gave Gordon an earth-shattering, epic feel. Note the lightning bolts.
8. Pat Hamou (Kraftwerk)
Kraftwerk is a German electronic band the New York Times once praised as having "predicted pop's electronic future back in the 1970s."
Like Daft Punk after them, the duo is all about high-tech concerts. They also have an odd penchant for writing songs about things like robots and transportation vehicles. It is fitting, then, that their poster is reminiscent of Fritz Lang's 1927 science fiction epic, Metropolis.
9. Mark McDevitt (Washed Out)
Props to Mark McDevitt for avoiding the obvious Instagram filter approach to this one. Washed Out was probably grateful, instead, for the beautiful, tessellating cutouts from faded, old advertisements. They're muted and hypnotizing like a Paul Klee painting, just like Greene's music.
10. The Hold Steady
The rock band The Hold Steady embarks this year on its first tour in four years. Older, wiser and perhaps with the passage of time weighing heavily on their minds, they're well-suited to Hollomon's symbolic clock imagery, which finds itself somewhere between Salvador Dalí and a really sad dive bar.
11. Gustavo Gialuca (Franny Glass)
Artist Gustavo Gialuca has created an unfussy sketch for the Uruguayan troubadour Franny Glass (real name, Gonzalo Deniz). In a sea of bold vector art and other digital creations, the sketched artwork stands out in its soft simplicity, just like Glass' music.
12. Daniel MacAdam (The War on Drugs)
The War on Drugs' new album, Lost in the Dream, is far heavier than their last, largely due to frontman Adam Granduciel's heartaches and personal demons.
His music always feels adrift, like it's being sung by someone nearly drowning but somehow still afloat with hope in sight.
13. Justin Santora (Band of Horses)
Band of Horses is one of many Seattle-born indie rock bands that have since made it big and relocated. (They recently played a full acoustic set at the historic Nashville venue, the Ryman.)
In their song "Neighbor," they sing, "Every house not a home but dare do I roam / There's a light on the porch here for someone." Artist Justin Santora captures their lyric in this sepia poster.
14. Luke Drozd (Chas Palmer-Williams)
When Chas Palmer-Williams came to Luke Drozd for a tour poster, he had an oddly specific demand: He wanted an image that was "inspired by organs" and "inhabits and alters spaces."
Hence, this crazy piece of art-deco puzzle-work.
15. Matt Pfahlert (The Autumn Defense)
The Autumn Defense was started by John Stirratt of Wilco fame, but they're an entirely different animal. The band indulges less in experimentation and sticks more closely to classic pop/rock roots.
For The Autumn Defense's 2014 Tour, Matt Pfahlert gave us an Ed Ruscha-like poster of suitcases, travelers and planes.