Here's CBS's Top Choice to Replace Letterman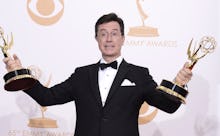 Less than two months after Jimmy Fallon took over Jay Leno's hosting gig on the Tonight Show, the late-night television world is preparing for another shake-up: the departure of David Letterman from the Late Show. After 21 years at the helm, Letterman announced on Thursday that he will retire next year from CBS' flagship talk show. The 67-year-old veteran's shoes will be tough to fill, but the CBS bosses may already have a successor in mind: Comedy Central's Stephen Colbert.
Show biz sources say that as of now, Colbert is "the only one on the air currently that CBS is considering." While that could mean that the network is looking at other comedians who are not on TV right now, Colbert is an irresistible candidate to execs: he has a huge, built-in fanbase, he is a pop culture fixture and he can bring in new viewers to Letterman's baby-boomer demographic.
Stephen or "Stephen." Still, one important thing to keep in mind is that if Colbert transitions from The Colbert Report to the Late Show, he is sure to lose the very thing that made him so unique and popular: his "Stephen Colbert" character. The faux conservative persona is what made him a standout at Jon Stewart's Daily Show and what helped him become so successful with his own spin-off show. Colbert has been able to take the character to surreal heights, and used it as a tool to engage in some decidedly non-PC satire.
But if and when Colbert takes over Letterman's seat, he'll have to leave his well loved character behind and just be Stephen Colbert — comedian and host of the Late Show. While he's equally funny out of character, it may be jarring for audiences to see the incisive satirist make idle chitchat with actors and musicians on the publicity circuit. CBS execs might be looking for edgier material, but they probably won't let Colbert perform "Oopsie Daisy Homophobe" on-air:
The Colbert Report
Same old, same old: The seeming consensus around Colbert also demonstrates that even though TV execs are trying to shake up the late-night scene, they don't want to stray too far from one tried-and-true ingredient: middle-aged white men. Other names that have been thrown around include Stewart, Neil Patrick Harris and Craig Ferguson (though Ferguson and his Late Late Show have found success on CBS, he was reportedly never really considered a viable candidate to replace Letterman). All of them are fantastic comedians, and all of them would blend nicely into the beige late-night landscape of Fallon, Seth Meyers, Jimmy Kimmel, Conan O'Brien, Pete Holmes and Carson Daly (Stewart and Ferguson have their own talk shows).
We already have Chelsea Handler and Arsenio Hall, so why would we need another woman or person of color on TV? That would just be pointless ... right?