There's One Simple Thing That Marie Claire's Editor-In-Chief Says Creates Success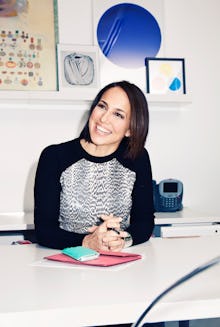 Sitting in Anne Fulenwider's bright, mostly white office in New York's Hearst Tower, it's hard not to be in awe of the put-together woman next to you.
First, her resume is extremely impressive. Prior to her editor-in-chief position at Marie Claire (and an earlier executive editor position with the company), Fulenwider was editor-in-chief at Condé Nast's Brides magazine and held senior editor positions at Vanity Fair and The Paris Review.
Second, her big secret to success is presence.
Fulenwider tells PolicyMic that presence is a huge factor when it comes to being a great boss. Presence isn't about how often you see someone. Presence is about how much of yourself is truly there, how much genuine interest you have and how much you try to understand others when you're with them.
The editor-in-chief points to her own former bosses as having great presence that shaped her into the person she is today.
"[A great boss] is someone who has a great vision, who is great at communicating that vision, who is comfortable delegating authority and is very present," she says.
"I had the great honor and pleasure of working for George Plimpton when I first got to the city. He was a New York character and I helped him finish a book about Truman Capote," she tells PolicyMic. "I was just curious and up for anything. I helped research the book. I also helped him grocery shop and prepare for his cocktail parties."
Fulenwider also points to Vanity Fair's Graydon Carter's unending curiosity and Cosmopolitan's EIC (and former editor at Marie Claire) Joanna Coles' democratic leadership style as great traits of bosses.
And real-life presence is needed more than ever in our rapidly changing technological world where everyone is racing to keep up. This is why Fulenwider asks everyone she comes across how they absorb information, whether they do it through their Twitter feeds in the mornings or watching television at night. This is also why she tries to meet with every intern who's hired so she can understand what's behind their drive.
"Young people today are so energetic and excited to do work," says Fulenwider 
"They're more entrepreneurial now than they were when I was graduating from school. I just met with a girl today who is 22 years old, and she and her friends started a really interesting magazine called Suitcase and they're trying to figure out how to grow it online. Right now, there's only six of them. They've hardly ever been in the same room. They're in different cities and countries. They don't see what is standing in their way. They see what's possible."
Fulenwider explains that Marie Claire is staying present for the modern woman by offering fashion and beauty stories right next to investigative reporting that hopes to "shed a light on areas of the world that people don't know about," such as the story about the virgin trade in Cambodia.
Being present also means understanding what women are up against today. The popularity of feminism has definitely affected the way we talk about women, but has it affected the kind of topics that women magazines like Marie Claire cover?
Fulenwider doesn't think so.
"We have really always been there for women rights. We've always covered women reproductive health," she tells PolicyMic. "I've always called it 'a Marie Claire moment,' and now the rest of society has finally caught up."