This Is Not Just Another Image of Harvey Milk – It Made History Today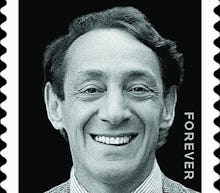 It's not often that we await our first look at a stamp with such anticipation. But this one is special.
After it was announced last October that slain gay rights activist and political leader Harvey Milk will be honored with a postage stamp in his name, there's been considerable buzz about what the stamp will look like.
The wait appears to finally be over with the release of this image, which is simple and classy. Collectibles stamp site Linn.com released the design, which features a black and white headshot of Milk along with his name and squares of LGBT-inspired rainbow colors.
Image Credit: Linn.com
San Francisco and Washington, D.C., are popular contenders for where the stamp will be issued on Harvey Milk Day on May 22. The U.S. Postal Service still has not confirmed further details of the release.
Milk was California's first openly gay political leader after being elected to the San Francisco Board of Supervisors in 1977. He represented the Haight-Ashbury and upper Market Street neighborhoods, which became a focal point for the city's gay population.
The effort to get Milk's famous visage on a stamp has been a long one. A Change.org petition was launched almost three years ago, accumulating 10,000 signatures in 2011.
The USPS selects only about 20 subjects per year for a stamp from among thousands of proposals reviewed by a citizen advisory committee. Other gay celebrities, such as artist Andy Warhol, have been recognized with stamps, but the Harvey Milk Foundation, started by Milk's nephew Stuart Milk, said Milk will be the first elected gay leader to be honored.
What's next? Hopefully Milk and his legacy will keep flying high. This year legislation has been introduced to the city Board of Supervisors to rename part of San Francisco International Airport after Milk.