The Reason Athletes In This Photo Are Smiling Speaks Volumes About Our Generation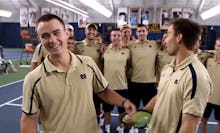 University of Notre Dame student-athlete Matt Dooley has come a long way since waking up in a hospital bed following a failed suicide attempt three years ago. Although the senior tennis player was nervous when he started coming out as gay to his teammates last month, he has been met with an overwhelming show of support from teammates and coaches.
In a somewhat surprising step, Notre Dame even produced its own a video to show exactly how they felt about Dooley's pronouncement — and the results are pretty amazing.
In an interview with Outsports.com published last month, Dooley had noted he had struggled with his sexuality for years.
"Since my childhood, I was taught that being gay — a secret buried inside me since middle school — I was bad, I was wrong and I was unworthy of respect," he said. 
The fact that Dooley was raised Catholic and attended Notre Dame, a Catholic university, didn't make it easier for the young man to reconcile his identity with church doctrine.
But eventually Dooley realized he needed to tell someone. He opened up to his friend and tennis team captain Greg Andrews. Although worried about Andrews' reaction, it quickly became clear his teammates weren't going to force him to chose between being himself and the sport he loved.  
Image Credit: YouTube
"I wasn't expecting to hear it, but I didn't care," Andrews said. "And that's what I told him. I said, 'Hey man, I don't care ... you're still the same Dooley to me, and it won't change our friendship.'"
To be fair, Notre Dame isn't the most LGBT-friendly college. It had refused to add a LGBT resource group on campus 15 times before approving it in 2012. But Dooley felt nothing but love from his comrades.  
"The strangest thing was that they expressed a sense of gratitude," Dooley said in the interview. "It was like, 'Thank you for trusting us with this.'"
For a long time, sports culture was such that locker rooms ignored having to deal with gay athletes by tacitly denying their existence. However, in recent years a spate of LGBT athletes have proven the ridiculousness of this attitude.
Pro basketball player Jason Collins revealed he was gay in an emotional cover story for Sports Illustrated last year, and NFL hopeful (and Missouri grad) Michael Sam became the first active college football player to come out in February, the same month Drew University baseball star Matt Kaplon came out to his teammates. In 2010, George Washington University's Kye Allums came out as the first Division I college basketball player to compete publicly as a transgender person, according to the New York Times.