Putin's Next Target? Far From What the Media Would Have You Believe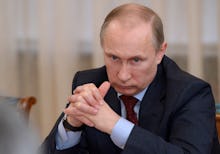 If we believe the mainstream western media, Vladimir Putin is hell-bent on rebuilding the former Soviet Union.
Since Putin's annexation of Crimea, headlines and inches of column space have been devoted to "experts" and other media voices attempting to predict the Russian president's next move in the region. 
They're hypothesizing all over the place: Vladimir Putin is a czar. Vladimir Putin is out of his mind. Vladimir Putin is starting a new Cold War era. Vladimir Putin wants the Soviet Union back. He wants to "rule like Stalin but live like the Rockefellers." He is coming for a bunch of other territories besides Crimea. 
No one knows exactly what Putin has up his sleeve, if anything. So far, he has explicitly stated that he does not plan to invade any other part of Ukraine other than Crimea. Whether as a reaction to U.S. President Barack Obama's sanctions or not, Putin said he sees no additional land grab in his future. "Russia is trying to cement the status quo by providing assurances to the West that it won't go further and invade Ukraine," according to Fyodor Lukyanov, head of the Moscow-based Council on Foreign and Defense Policy.
So far, there are isolated reasons to worry, but nothing adds up to a full-blown legitimate theory as to Putin's next attack. Let's go through every country Putin is allegedly invading next and why these guesses can't really be trusted.
Moldova: There's a Russian-speaking separatist region in Moldova called Trans-Dniester and the communist leadership there wants Russia to annex the region. Russia has enough troops on the border of Eastern Ukraine that it could easily do such a thing, NATO's most senior military commander said on March 23. General Philip Breedlove then immediately added that this situation is "very worrisome." Some experts are saying that Putin could even build a land bridge between Trans-Dniester and Russia, which would go straight through Ukraine. 
Image Credit: Wikimedia Commons. Soviet symbols still remain in Trans-Dniester.
Finland: Putin's former economic adviser reportedly said on April 1 that "significant parts of Georgia, Ukraine, Belarus, the Baltic states and Finland are states where Putin claims to have ownership," and the media, PolicyMic included, covered it as if the Russian president might conquer Finland next. If you read the Moscow Times' article with the original source, you will read that the former economic adviser, Andrei Illarionov, is an "outspoken Kremlin critic," according to the reporter. You will also read that Illarionov was quoted as saying explicitly that none of these countries are on Putin's agenda today or tomorrow. Illarionov warned it might become a problem in the future.
And as Joshua Keating points out over at Slate, Illarionov hasn't been Putin's advisor since 2005: "He does have an ax to grind with the Kremlin but doesn't exactly have a direct line to Putin's thinking." In other words, Illarionov, who angrily resigned from the Kremlin in 2005, saying that Russia was no longer a democratic country, has his own motives. Plus, he said, Russia just doesn't have the power or equipment to invade Finland.
Image Credit: Wikimedia Commons. Sign indicating the border between Russia and Finland.
Azerbaijan: Putin said on Dec. 2, 2013, that Russia will continually make its military presence in the Trans-Caucasus region stronger. This, coupled with the annexation of Crimea, is making some experts on Azerbaijan nervous. Is Azerbaijan the "next target?" Zulfugar Agayev asked in Businessweek on April 6. 
Azerbaijan never applied to be part of the North Atlantic Treaty Organization nor the European Union and its middle ground between Russia and the West makes it particularly vulnerable to Russian pressure, according to Vafa Quluzada, a former foreign policy adviser to Azerbaijan's ex-President Heydar Aliyev.
But, alas, Agayev wrote that "Putin hasn't directly threatened Azerbaijan and an invasion is unlikely."
Image Credit: Wikimedia Commons. Putin with Azerbaijan's president, Ilham Aliyev.
Alaska: A pro-Kremlin group in Russia started a mock petition to the White House to bring Alaska back to Russia. They claimed the petition's purpose was not actually to bring Alaska back to Russia, but rather to reveal the flaws of a democratic system. They wanted to show that anyone who harbors "evil objectives" can make a change in American society if he gathers enough support, thus the evils of democracy. 
Most of Russia is in on the joke, as over the past month or so, lots of memes about Putin annexing Alaska have gone viral. Here's one that makes fun of Putin's spoiling of his rumored fiancee/girlfriend, famous gymnast Alina Kabaeva. The original meme has a picture of her on the phone with him and says, "I didn't ask for Crimea, I asked for cream," insinuating that Putin annexed Crimea for his sweetheart and simply misheard. The words for "cream" and "Crimea" in Russia are very similar. This meme, again, is a picture of Kabaeva on the phone with Putin; she says, "I need a baby carriage, but I'm afraid to ask for one." The word for "baby carriage" in Russian is "kalyaska," and it sounds very much like "Alyaska," the word for Alaska in Russian. 
The bottom line: Ukraine might very well be at stake here, as 40,000 Russian troops have amassed around the Ukrainian border, intimidating Ukrainians. Understandably, fears are swirling around what Putin, whose motives are eerily difficult to discern, will do next.
Any time there is fear in the equation, it is vital to fact-check and reject the urge to assume just to be the first one to guess it right. Even if Putin is setting his sights on the annexation of other regions and bringing Russia back to the days of the Soviet Union, he is awaiting another crumbling of his government, one that is reminiscent of 1991. 
The fact is that Russia is not a world superpower anymore. Fears of Putin's next land grab are speculations that do not take into account the nuances of current international relations. Fears of another Cold War are unmerited and rooted in the trauma of historical memory.