This Parody of Miranda Kerr's Racy GQ Shoot Challenges Notions of Sexuality in Fashion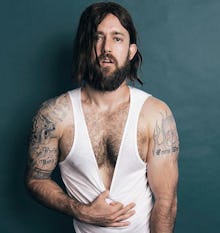 Sex sells, and that's true for women just as much as men. But a set of parody pictures from Australian comedy duo Bondi Hipsters has shone a very hairy light on the way women's sexuality is portrayed in the fashion industry. 
Miranda Kerr made headlines earlier this month when she modeled in provocative poses and small scraps of sheer clothing for the British May 2014 issue of GQ. In a provocative twist, Dom Nader of the Bondi Hipsters decided to mimick the shoot, spoofing the NSFW poses and even some of Kerr's quotes regarding her own sexuality.
Image Credit: Bondi Hipsters
As the Bondi Hipsters hint, however, the sexualization of women goes beyond the physical photos. In an interview accompanying the GQ shoot, Kerr hinted at her openness to same-sex sexual experiences, saying, "I love the female body and truly appreciate the female form... I want to explore. Never say never."
While this may very well be Kerr's honest opinion, one would be forgiven for a bit of cynicism. Kerr is a fashion model, after all, in an industry that for years has filled magazines with performative lesbianism, images that are meant to titillate but not to imply any actual same-sex attraction.
Kerr also made comments about having had orgasms on airplanes, both by herself and with another person. Bondi Hipsters use these quotes in their parody photos too, highlighting a distinct double standard in the way the fashion industry asks women to sexualize themselves. 
"If I was really smashed I'd give a guy a wristy... I just wouldn't tell anyone... Especially not a mahgazine [sic]," a quote on one Bondi photo reads. Another says, "Mile high club? Put it this way... I've had a wank on a bus."
Image Credit: Bondi Hipsters
Sexualization of both men and women is nothing new, of course, but it has picked up steam in recent years, particularly for women. Researchers at the University at Buffalo, SUNY, analyzed more than 1,000 Rolling Stone covers spanning 40 years. In the 1960s, 11% of men and 44% of women were presented in a sexual way, but by the 2000s that percentage had grown to 17% of men and 83% of women. They also found that women are more likely to be hypersexualized or shown to be sexual in a number of ways, including posture, camera angle and nudity, among others. 
"As you can see, the shoot comes across very differently," Christiaan Van Vuuren, a writer for Bondi Hipsters, told The Huffington Post. "We think that this is a good case for the over-sexualization of the female body in the high fashion world. For some reason, as soon as you put a man in there and have a man talking about same-sex curiosity and masturbation, it's an entirely different thing that we aren't used to seeing in the media."
The Bondi Hipsters shoot is just one of many recent examples of a parody that uses role reversal to expose the discrepancy between how men and women are treated.