The Baby in This Photo Is at the Center of An Absurd Murder Plot in Pakistan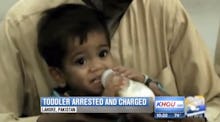 Muhammad Mosa Khan appeared in court in Pakistan. He was charged with planning a murder, threatening the police and interfering in state affairs.
All of these offenses sound like perfectly legitimate, very serious accusations. Except that Muhammed is actually a 9-month old infant who made his court appearance seated on his grandfather's shoulder. He spent the majority of the trial drinking milk from his baby bottle.
According to charges filed Feb. 1, Muhammed, along with other members of his family, was one of 30 people booked for pelting stones at gas company officials as they carried out an anti-theft inspection in the low-income Ahata Thanedaran neighborhood of Lahore. Deciding that the 9-month-old was fully capable and responsible for stoning a law enforcement team, sub-inspector Ahmed Kashif decided to arrest the child. However, the arrest went against Pakistan's laws as the minimum age for criminal responsibility (except in case of terrorism) is 12. 
The farcical arrest stirred an alarmed reaction from Chief Minister of Punjab Muhammad Shahbaz Sharif, who said that "stern action" would be taken against the police officials who registered the case. Sub-Inspector Kashif has since been suspended. 
Mohammad Yaseen, the boy's grandfather, told Reuters, "He doesn't even know how to pick up his milk bottle properly. How can he stone the police?" 
While Baby Muhammad was quickly granted bail by judge Rafaqat Ali Qamar, he is still expected back in court on April 12, the date of the next scheduled hearing.  
The judge, while acknowledging the absurdity of the situation, could not completely dismiss the case against the toddler as it lay outside his jurisdiction.