9 Rare Photos Show the Birth of the World's Largest Democracy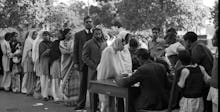 Monday marked the beginning of the world's largest democratic exercise: Between April 7 and May 12, more than 1.2 billion citizens in India will vote to select their new government. 
Take a look at these incredible photographs from India's first-ever general election, held 62 years ago in 1952. The scale of the operation was immense, with the New York Times declaring it an "unprecedented experiment in democracy."
Epitomizing the inherent hope of a nation engaged in a democratic process, the pictures range from long queues of voters waiting outside polling stations to political campaigns captured in action.
1. A man carries his blind, elderly father to vote in the Jama Masjid area of Delhi.
2. A voter looks for the election symbol of his choice candidate.
3. A long line of women voters wait to cast their votes at Modern High School in New Delhi.
4. A polling officer affixes an indelible ink mark on the forefinger of a voter before allowing her to vote.
5. Specially designed burglar-proof steel ballot boxes held the ballots.
6. An elderly Muslim woman voter identifies herself before being issued ballot papers.
7. A campaign truck shows a portrait of Shri Jawaharlal Nehru and pair of bullocks, the election symbol of the party.
8. Women work at the election camp office of candidate Shri Durga Das, whose symbol was a bicycle.
9. Muslim women wait to vote near Jama Masjid.