8 Inspiring Animated Films Showcase an Unseen Side of These Musical Legends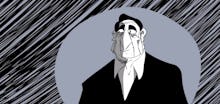 The musicians we most look up to are generally known for doings drugs, getting laid and viciously resisting authority. It seems counterintuitive, then, that they have some of the best advice of anyone on how to lead your life.
Johnny Cash was a revolutionary figure in that regard: Known as the man in black, he was a bad boy who was an excessive user, broke up relationships and pushed the bounds of what was acceptable for musicians to do. Cash has been dead over 10 years now, but with the release of his last new album last month and a lost interview emerging yesterday, fans are being reminded that an important voice never really goes away.
The folks over at PBS' Blank on Blank have known that for a long time. Their archive of incredible interviews, paired with brilliant animated videos, has been reviving legends since 2011. If you dig into the archive, you find musical legends coming alive with the advice they lived by, and the advice they couldn't live by but knew they should.
Here are the most powerful bits for anyone in search of direction:
1. Work hard at what you're called to do.
Cash was in many ways an anomaly — a man with incredible talent who was simply meant to be a star. But he worked hard, growing up in a cotton field, singing gospel music. Here he is on the value of hard work:
"Do you need to work so hard and drive yourself so hard?" his interviewer asks.
"For my soul I do," Cash answers, "Yeah, for my soul. It's a gift. My mother always told me that any talent is a gift of God and I always believed it. If I quit, I would just live in front of the television and get fat and die pretty soon. So I don't want to do that. You know I just hope and pray I can die with my boots on."
He kept performing up until two months before his death.
2. Respect women and know the value of optimism.
Kurt Cobain, February 20, 1967 – April 5, 1994
Nirvana's Kurt Cobain was, by all standards, a tortured soul. In this 1993 interview with Jon Savage, he admits, "I felt so different and so crazy that people just left me alone." Cobain had a rough childhood and his depression was largely triggered by his parent's divorce and a desire to fit in and be normal.
"Because I couldn't find any friends, male friends that I felt compatible with, I ended up hanging out with the girls a lot," he explains, "And I just always felt that they weren't treated with respect. Especially because women are totally oppressed."
Though the interview was conducted only a few months before his suicide, his care for others at the end of his life is a reminder of how profoundly deep he was. And his point about optimism is a reminder for those of us who can feel that way to be grateful.
3. "Don't give a damn what anybody thinks"
Ray Charles, September 23, 1930 – June 10, 2004
Ray Charles was a musician, singer-songwriter and composer. For a bridge figure in American music often very closely scrutinized, he knew better than most how to stay true to himself.
In this 1987 interview with Joe Smith, his vibrant personality really comes through, and you can hear him smiling from beginning to end.
"This is America, I don't give a damn what anybody thinks," Charles begins. "If somebody don't like something that I do, that's his or her prerogative. Just like it's mine."
Throughout, Charles talks about his mom teaching him to mind his own business, how he plays the same for a crowd of 5000 or a crowd of 500, and insists, "I cannot be anything other than what I am."
4. "Go out and have an adventure."
Jerry Garcia, August 1, 1942 – August 9, 1995
Jerry Garcia died young. For a man with a cult-like following, he left surprisingly little to his devotees.
Perhaps the most stirring lesson he has to share, though, is the spontaneity accompanying great things. The Grateful Dead didn't set out to create anything, rather they "just set up the equipment, everyone got high, and stuff would happen." They held no expectations going into it though. They were simply friends having fun and experimenting — with drugs, with sound and with what society expected of them.
"I think the Grateful Dead kind of represents the spirit of being able to go out and have an adventure in America at large," says Garcia. And that's an invaluable freedom we get being young in the United States and something no one should take for granted.
5. Pull yourself up by your bootstraps, stay honorable.
Tupac Shakur, June 16, 1971 – September 13, 1996
"If I was white I would have been like John Wayne," Tupac says in this 1994 interview with Benjamin Svetkey. "Somebody who pulled himself up from their bootstraps. From poverty. From welfare. Now I am kissing Janet Jackson. I'm doing movies. I feel like a tragic hero in a Shakespeare play. You know what I'm saying?"
Tupac achieved success in spite of all the forces against him: being raised by a single mother in poverty, press that had it out for him, the prospect of spending his life in jail. Through it all he succeeded by being true to himself and maintaining his honor.
He may have been a thug, but he always kept things in perspective. Tupac didn't see himself as larger than life or above the law. He saw himself as real, and he knew that honest self-perception is key to anyone's success.
6. If you keep fighting, you'll end up anything you want to be.
Janis Joplin, January 19, 1943 – October 4, 1970
Recorded a mere four days before her death, singer-songwriter Janis Joplin's last interview with Howard Smith largely has to do with the notion of rejection.
"In my insides, it really hurts if someone doesn't like me. It's silly," she divulges.
Joplin took a lot of criticism — mostly from the press and from feminists — but she understood that we are only as much as we settle for, and that "If you keep fighting, you'll end up anything you want to be."
She was all about living by her own standards, doing what she loved and embracing that part of her that demanded more out of life. She concludes as the interview winds down, "I'm just doing what I want to and what feels right."
Even when you need to be loved, you can find your freedom.
7. Sometimes it pays to be stupid.
Adam "MCA" Yauch, August 5, 1964 – May 4, 2012
The Beastie Boys were three white guys from Brooklyn who helped define American hip-hop in the 1980s.
Though Adam "MCA" Yauch died in 2012, this interview with Rocci Fisch resurrects his voice. Along with Michael "Mike D" Diamond and Adam "Ad-Rock" Horovitz, we learn about how the boys broke through stereotypes of what people thought rap music needed to sound like and who could make it.
The most insightful moments, however, come when they talk about being arrested in Virginia for using profanity on stage, something which resulted in Ad-Rock getting a bit of a beat down: "If we had known in the first place we wouldn't have done it." They also discuss the name Beastie Boys in general, how "at the time it was the stupidest name that [MCA] could possibly think of."
But sometimes stupid works. You can't take yourself too seriously.
8. Don't conform.
The Doors frontman Jim Morrison spends a lot of this 1969 interview with Howard Smith talking about food. Smith comments that Morrison's gained some weight, which sets Morrison off on a tangent about how he felt great when he weighed more. 
"It's terrible to be thin and wispy, because, you know, you could get knocked over by a strong wind or something. Fat is beautiful." 
As always, he's provocative and a little confusing.