Are You Female, Between the Ages of 18-28? This Sheikh Has a Job Opening for You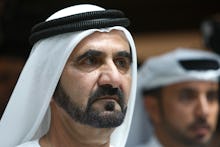 The news: If you're a young, attractive, English-speaking Italian woman with a good eye for fashion, you may be in luck — a royal household is looking for a cadre of personal shoppers.
An Italian casting agency has been tasked by Sheikh Mohammed bin Rashid Al Maktoum, the prime minister of the United Arab Emirates, to find 60 shopping assistants for his wives and his daughters. In exchange for their 15 days of service, the assistants will be paid $138 a day, receive free luxury accommodations and flights, have access to unlimited shopping and be invited to exclusive fashion events and dinners.
"The first requirement is beauty but then, of course, multi-language skills, liveliness and strong fashion and style knowledge," the ad reads. "The girls will be assisting [the sheikh's] family in all their shopping and fashion needs while in Madrid, Paris, London, Stockholm and, of course, Italy — Milan and Venice."
A sketchy reputation: The description above may raise red flags for you if you've read the horror stories of American women being abducted for sultans' harems, or watched unflattering pop culture portrayals of lecherous sheikhs on Taken or Homeland.
But Sheikh Mohammed's recruiters are quick to assure that the ad is not some front for unsavory business. "This is not a harem we are building! It is more like a family vacation; many of the sheikh's children will be there. The ladies' responsibility is to ensure they are dressed correctly for the social events they attend," said Mauro Belcaro, the owner of the Italian casting agency in charge of recruitment.
Of course, if you have to clarify that your business is not a harem, things become instantly sketchier. But it's a competitive process to join the sheikh's entourage.
The women who have applied so far have been interviewed by an image consultant, a professional personal shopper and a lawyer "to keep the process transparent and ensure the contracts they sign with the sheikh are 100% accurate." Only one or two out of 100 applicants have made the grade. That's a lower acceptance rate than Goldman Sachs or any Ivy League college — it's no joke to become a billionaire sheikh's shopping assistant.