Real-Life Barbie Has Something Awful to Say About Your Interracial Relationship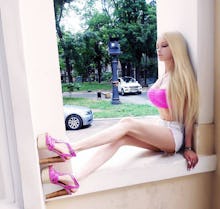 The news: There's plenty to find disconcerting about Valeria Lukyanova, the Moldovan woman who famously manipulated her appearance — without cosmetic surgery, she claims — to look like a Barbie Doll.
But a recent GQ profile reveals that the extreme beauty standards to which she holds herself aren't reserved for her alone. In fact, they reflect a much broader and eerily Third Reich-ish concept of racial purity and white supremacist ideals. Even interviewer Michael Idov was taken aback by her bluntness on the subject:
"Everyone wants a slim figure," she tells him. "Everyone gets breasts done. Everyone fixes up their face if it's not ideal, you know? Everyone strives for the golden mean."
Idov replies that this is a pretty new concept: "The ideal of beauty used to be different."
"That's because of the race-mixing," she responds.
Wait, what? Don't worry, she elaborates:
"For example, a Russian marries an Armenian … They have a kid, a cute girl, but she has her dad's nose. She goes and files it down a little, and it's all good. Ethnicities are mixing now, so there's degeneration, and it didn't used to be like that."
Ah, so "race-mixing" leads to "degeneration" and ugly big-nosed mongrel children who need plastic surgery to "file down" their unfortunate "ethnic" features? Got it. Please, tell us more:
"Remember how many beautiful women there were in the 1950s and 1960s, without any surgery? And now, thanks to degeneration, we have this. I love the Nordic image myself. I have white skin; I am a Nordic type—perhaps a little Eastern Baltic, but closer to Nordic."
Image Credit: BarbieBlog
Charming. While it's nice that she loves "the Nordic image of [herself]" — whatever that means — it's significantly less nice that she does so at the expense of nearly everyone else in the world. On the other hand, perhaps it's misguided to weigh comments from a person who willfully drinks chutney mixed with carrot juice for dinner at an Indian restaurant.
Then, there's the well documented irony informing the popular discourse around Lukyanova. Can a society that promotes such narrow standards of beauty really judge a woman for taking those standards to their logical extreme? What right do we have? We label her "crazy" for believing she's a Venutian and re-naming herself "Amatue," and for spouting bigoted inanities that would make Adolf Hitler offer her a fist bump. However, as the man who underwent 140 surgical procedures to make himself look like a Ken Doll says (without a hint of irony): "I really don't get her."
Image Credit: GQ
And it's true. We don't. Even the GQ profile reveals only that she grew up in a strict household in the poorest country in Europe, routinely bullied by classmates for her constantly shifting appearance.
Writer Maya Rhodan points out that Lukyanova has qualities that are "empowered, racist and just plain strange all at once," culminating in a singular persona who seems knowable and utterly baffling at the same time. Idov refers to her as a "racist space alien." And although what drives her may elude us, it's abundantly clear what she doesn't want out of life:
"The worst thing in the world is to have a family lifestyle," she tells Idov. "I'd rather die from torture."
But amidst all the unanswered questions lies a troubling reality: Valeria Lukyanova's concept of beauty contains ugly strains of racist ideology. Her comments on "race-mixing" will inevitably go down as another stain on an already fraught legacy.
And ultimately, we know just as little about her motives now as we did when we first saw her.