After 101 Years, a Grandfather's Message in a Bottle Finally Reaches His Granddaughter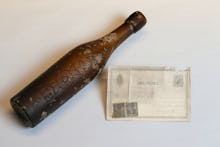 In Berlin this week, a man stood outside Angela Erdmann's door, saying he had a message from her grandfather — a man who died six years before she was born.
In a twist straight out of a movie, Erdmann's visitor informed her that the "note" from her grandfather had come from a grimy brown beer bottle that had been floating in the Baltic Sea since before World War I.
Thought to be the world's oldest message in a bottle, it was presented to Erdmann by the International Maritime Museum in Hamburg and is now being exhibited in Germany.
Researchers traced the handwriting to Richard Platz, who went hiking near the Baltic Sea with a nature appreciation group in May 1913. He scrawled a note on a postcard, added two stamps to cover the cost of postage, and lobbed the beer bottle into the sea.
Platz's bottle-post bobbed in the Baltic for more than a hundred years, until it found its way into the nets of a fishermannear the northern German city of Kiel.
And that was how Angela Erdmann found herself receiving mail from her grandfather that had spent a hundred years in transit.
"That was a pretty moving moment," she said. "Tears rolled down my cheeks."
Moved by the entire episode, Erdmann promptly took to family albums and scrapbooks to discover more about her mother's father, and was delighted to find that she shared her roots with an erudite and open-minded Social Democrat who loved to read and travel.
However, Erdmann did not seem too pleased with her grandfather's lack of environmental concern and his cavalier attitudes about throwing nonperishable bottles into the sea.
"Today the sea is so full of so many bottles and rubbish, that more shouldn't be thrown in there," she said.
The message and the bottle are both on display at the maritime museum in Hamburg until May 1, after which experts will try to decipher the rest of the text.