Julia Louis-Dreyfus' Naked 'Rolling Stone' Cover Is Not a Win for Women in Comedy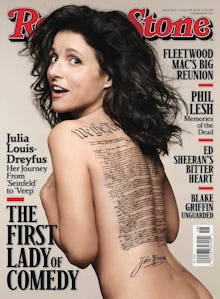 Seinfeld alum, current Veep star and all-around awesome lady Julia Louis-Dreyfus is naked on the latest cover of Rolling Stone. The shot is tasteful, with the Constitution scrawled on her back and just a smidgen of bum showing.
Let's get this out of the way: JLD is a grown-up capable of making her own decisions. She looks good, and it's cool to see such a talented female comedian getting love. Plus, a magazine celebrating the sex appeal of a 53-year-old woman for once, instead of a 20-something starlet, could, in a some ways, be considered commendable.
Nevertheless, this cover is not cause for celebration.
Image Credit: Rolling Stone
The comedy industry can be notoriously sexist, with its frequent assumptions that women aren't funny, poorly constructed rape jokes (and threats) and, as with the entertainment industry on the whole, disproportionate sexualization of the women within its ranks. In the words of legendary casting director Allison Jones, "There's still pushback, especially with women — when they're not that attractive but they're hilarious, it still doesn't matter to many people. They don't get it." And as Willa Paskin points out in Slate, "Male comedians, generally speaking, dress on a scale from not-trying-very-hard to not-trying-at-all. Female comedians have to look more presentable."
So although Louis-Dreyfus obviously is not personally responsible for, nor beholden to, the sexist expectations of this field, it's worth noting that her choices weren't made in a vacuum, as well as exploring how something like this resonates given the broader tenor of misogyny in comedy.
Compared to the likes of GQ or Maxim, Rolling Stone is a more equal-opportunity offender when it comes to the sexualization of stars: From John Mayer to the men of True Blood to, most randomly, Blind Melon, the magazine has definitely flaunted its fair shared of naked dudes (though the ratio of nudity remains skewed towards women). But an often hostile, bro-tastic atmosphere still pervades so much of the comedy world, and comedic actresses are routinely objectified in ways that the guys just aren't.
Image Credit: Rolling Stone
It's an issue foul-mouthed, cherub-faced Amy Schumer brilliantly lambasted in a recent episode of Inside Amy Schumer (dubbed "the most sneakily feminist show on TV"). In a skit focusing on a male focus group's reaction's to Schumer's comedy, the men manage to sexualize every single question they're posed about her show.
"Is this something you guys could see yourself DVRing?" the conductor of the focus group asks, to which a man replies, "I would probably bang her, if that's what you mean." The skit ends with Schumer behind one-way glass, saying, in a perfectly meta wink to the audience, "Couple of 'em said they would bang me?"
Maybe JLD is just winking at us, too. Regardless, this cover doesn't make her any less worthy of respect. I just wish women weren't so often expected to strip down to prove their chops and boost their appeal. Besides, if Julia Louis-Dreyfus is the "First Lady of Comedy," who's the President? Louis C.K.? When's his naked cover hitting the news stands?