17 Inspiring LGBT Anthems By Actual LGBT People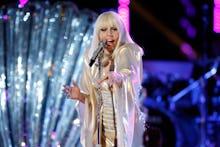 Songs about the LGBT community have charted with growing frequency in the past decade. A whole lot of straight artists, whether just looking for a hit or looking to support their LGBT fans, have written empowering songs urging fans to "Come on let your colors burst." Straight artists from Katy Perry ("Firework") to Kesha ("We R Who We R") have recorded "empowering" tracks that have taken flack from some critics as disingenuous. 
Then, of course, there's the question of "Same Love" and the public mass marriage that went down at the Grammys this year. By all appearances, it was a huge boon for the gay community. But it was also a smash hit for a straight artist enjoying the kind of success gay artists don't receive nearly as often.
Allies are great, but it's easy to look at the charts and forget that there are actual LGBT folks singing gay anthems. These songs are so important because they're more authentic by definition, and the voices are more marginalized. Here are 19 LGBT musicians whose anthems — some of them real hits; some, under the radar favorites — have led a whole group of marginalized voices in song:
1. Melissa Etheridge - "Come To My Window"
Not only is "Come To My Window" one of Etheridge's biggest hits, but it was also the first single she released after she came publicly out as a lesbian.
While some may assume that, back in 1994, her openness could have hurt the song's chances at success, history shows it actually spurred the track on. Etheridge won her second Grammy for Best Female Rock Vocal Performance, a category that (mercifully) actually no longer exists.
2. Scissor Sisters - "Let's Have A Kiki"
While the Scissor Sisters have had a number of dance hits whose campy style was adored by gay audiences, "Let's Have A Kiki" solidified them as anthem-makers.
The song was released just in time to be played at every pride event of 2012. It was inescapable. The song popularized not only the term "kiki" (a party for calming all your nerves), but also "hunty" — both of which have stayed in the lexicon of LGBT folks everywhere since.
3. Pet Shop Boys - "New York City Boy"
The Pet Shop Boys are still loved by the gay community after all these years — even though only one of the two members is openly gay.
While the duo has had quite a few songs that are perceived to be about gay concerns (falling in love with men, the AIDS crisis, etc.), they swear by the idea that they don't write for one group of people. "New York City Boy" was a No. 1 dance hit in 1999, becoming an anthem for gay clubs around the world.
The tongue-in-cheek video features a boy leaving his hometown and coming to New York, where he encounters dancing sailors and spends time at the legendary Studio 54. Good stuff.
4. Mary Lambert - "She Keeps Me Warm"
While "She Keeps Me Warm" couldn't cross from the Adult Top 40 chart to the pop charts, its meaning extends far beyond commercial success.
Lambert, openly lesbian since before her fame, rose to prominence after writing the chorus on Macklemore and Ryan Lewis' gay marriage anthem, "Same Love." After the song became a smash and was nominated for Song of the Year at the Grammy Awards (Lambert was one of the songwriters nominated), she used the same hook on her own single, pairing some of the original lyrics with new melodies.
5. K.D. Lang - "Constant Craving"
Like Etheridge before her, K.D. Lang was able to use the attention she garnered from coming out as lesbian to make "Constant Craving" a critical hit. Her first real hit outside the heteronormative country genre (where she''d found much success before), "Constant" — as well as coming out — was a major risk.
While the song barely cracked the top 40 (and was Lang's only single to do so), it won her a Grammy and the music video won the MTV VMA for Best Female Video.
6. Erasure - "A Little Respect"
By the time "A Little Respect" was released, Erasure were already very successful on both sides of the Atlantic. The duo played the same game as the Pet Shop Boys for some time, alluding to their sexuality but not actually stating it (singer Andy Bell came out two years before "Respect" was released).
But all the while, their lyrics based on compassion and love resonated powerfully within and beyond their large gay fan base.
7. Culture Club - "Do You Really Want To Hurt Me"
Reaching No. 1 in the band's home country (the United Kingdom) and the runner u-p slot in the U.S., "Do You Really Want To Hurt Me"" was Culture Club's first big hit — the first of many.
The song was written by now openly gay Boy George, who has remained an icon throughout his life. While the lyrics are general enough for anyone to connect with, they were, in fact, very specifically written about Culture Club's drummer, whom George had dated. The song's mainstream success helped the group win the Grammy for Best New Artist and the Brit Award for Best British Group.
8. RuPaul - "Supermodel (You Better Work)"
While RuPaul may be most well known by the masses these days for his long-running reality show RuPaul's Drag Race, he has been working in the drag scene for decades.
The biggest hit of his career, though, came in 1993 and was a shock to everybody — including the singer himself. While America was going through its grunge phase, "Supermodel," a dance song with a self-empowering message, managed to reach No. 45 on the charts.
While it may be his most popular song, the singer actually had the best charting album of his career this year, a testament both to the success of Drag Race and the opening of American culture.
9. Tom Robinson Band - "Glad To Be Gay"
It's not be surprising that Tom Robinson, the lead singer of the group that bears his name, was an out and proud gay man. This song was historically significant. Released way back in 1978, it became a top 20 hit in the U.K. Written for a gay pride event, it remains a famed gay punk rock hit.
10. Indigo Girls - "Closer To Fine"
After releasing a critically acclaimed independent album and signing to Epic Records, the Indigo Girls became the lesbian duo with the highest charting single in Billboard history.
Though "Closer To Fine" is one of only two of their songs songs to make it to the top 100, peaking at No. 52, it remains a fan favorite to this day.
11. Village People - "Y.M.C.A."
The boy band's name comes from New York City's West Village, which was a popular gay neighborhood in the 1970s. Each of the characters portrayed in the group — the cop, the Native American, the sailor, the construction worker, the cowboy and the biker — were all created to represent figures that were often seen in gay fantasies.
"Y.M.C.A." has an especially unique place in our country's musical history. Few songs are equally popular in gay bars and clubs as well as sporting events around the world.
12. Sylvester - "You Make Me Feel (Mighty Real)"
Sylvester was born a man but was well known, at the time, for dressing as a woman. He even started his career in several unsuccessful groups known for their costumes.
Despite his penchant for women's clothes, though, Sylvester rejected the notion that he was a drag queen. "You Make Me Feel (Mighty Real)" was his first big hit and remains his most well known. The disco smash was a top 40 hit in the U.S., as well as a No. 1 dance smash.
13. Lady Gaga - "Born This Way"
Since the beginning of her career, Lady Gaga has been a staunch and unapologetic supporter of all LGBT-related causes. Identifying as bisexual herself, she dressed as her male alter ego Jo Calderone for a period of time, famously performing in drag at the 2011 MTV VMAs and posing for Vogue Hommes Japan as a man.
"Born This Way," the title track off her second full-length album, became a six-week No. 1 hit in 2011 — the first ever Billboard No. 1 single to mention transgendered people.
While there are those who question if the singer is truly bisexual, it's up to her to make that decision. No one is in any position to tell another how to identify themselves — whether it be in categories of gender, race, sexual orientation or in any other manner.
14. Peter Allen - "I Go To Rio"
"I Go To Rio" is arguably Allen's best-known song, though the version he sings was not the most popular at the time. Allen made his mark on history as a songwriter, penning massive hits for the likes of Olivia Newton-John, Dusty Springfield and Carly Simon, among many others.
While the group Pablo Cruise actually scored a charting hit with "I Go To Rio," it is Alle's take that is still alive and kicking in the gay world. The song was written shortly after the songwriter divorced Liza Minnelli to be with his longtime male partner.
15. Elton John and George Michael - "Don't Let The Sun Go Down On Me"
Originally released in 1974, this song was a much bigger hit in the U.S. than in Elton's home country — charting at No. 2 and No. 16, respectively. The two performed the song together for the first time in 1985 at a Live Aid concert, and it was officially re-released as a single in 1991, becoming a chart-topper in both countries.
Not only was this event a joining of two of the biggest gay musical stars in the world (now legends), but money from sales of the single also went to various AIDS and children's-related charities. All in all, a very good thing.
16. Alicia Bridges - "I Love The Nightlife"
Bridges is one of several acts on this list who are known primarily for one hit song, though they have had fruitful and distinguished careers beyond a singular track. "I Love The Nightlife" was an international hit, making Bridges a disco star, even though the majority of her music was R&B and rock.
Though she didn't officially come out until a later interview in popular gay magazine the Advocate, the song was featured in the movie The Adventures of Priscilla, Queen of the Desert, which has been a favorite in the gay community since its release.
17. Bronski Beat - "Smalltown Boy"
"Smalltown Boy" was Bronski Beat's first official single, and while it was only moderately popular in the U.S. with the public, it fared much better in Europe.
The song is meaningful to LGBT audiences because of its unflinchingly beautiful lyrics. It's a stirring portrait of being bullied and cast out by family members due to one''s homosexuality. All the members of Bronski Beat were openly gay men, and much of their music focused on similarly powerful topics.
Like many of these acts, they aren't the household names they should be today. But in the places it matters most, their music lives on.