A South Carolina University Was Forced to Cancel This Play Because It Might "Recruit" Lesbians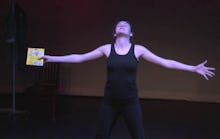 When performance artist Leigh Hendrix came up with the idea for her poignant one-woman show How to Be a Lesbian in 10 Days or Less, she never guessed it would be taken so seriously. After all, the play is not actually a how-to guide to lesbianism.
Or is it? Apparently horrified by the play's title, South Carolina lawmakers successfully lobbied University of South Carolina Upstate officials to drop Hendrix's performance from the school's Bodies of Knowledge Symposium and Conference this week. 
While the entire conference has already been the target of conservative lawmakers worried about the promotion of a homosexual agenda, Republican State Sen. Mike Fair took special offense to the Hendrix piece, telling local station WYFF News 4 that the play was "not an explanation of 'I was born this way.' It's recruiting."
Someone should probably have told Hendrix. In an email to PolicyMic, the Brooklyn-based performer noted that, in fact, How to Be a Lesbian in 10 Days or Less is really more about "finding yourself and finding your voice in the face of all the ideas other people have about how you are supposed to do that. It's funny and fun and a only takes itself a little bit seriously sometimes." Through intentionally satirical characters like "expert lesbian" and motivational speaker Butchy McDyke, Hendrix said her play is designed to get people talking in an open and safe atmosphere.
Despite a somewhat provocative title, Hendrix said she's never been accused of actual recruitment before. The show has been met with positive receptions at venues as diverse as the New Orleans Fringe Festival and the Bloomsburg Theater Ensemble in Pennsylvania.
"I was probably more surprised than I should have been by this," Hendrix told PolicyMic. "I know what the climate is like in South Carolina right now. I think that the biggest thing I'm realizing is that performance, live bodies telling these kinds of stories, must be pretty powerful if people are so scared of it!"
"It has always been my goal to make gay and lesbian students feel like a visible and valued part of the student population," Johnson told the Huffington Post. "Leigh's performance would have been a funny and light-hearted way to combat the invisibility of LGBTQ people in the traditional college curriculum."
Not anymore. Hendrix said in general, South Carolina politicians need to take a step back.
"I think I'd tell Senator Fair to calm down," she said. "I don't want to recruit anyone or even convince anyone of anything, actually. This show isn't for him or for people like him — it's for folks who don't often see their experience reflected, a place for us to laugh at ourselves and remember our own value."