Burger King Just Made a Sneaky Move Straight Out of 'Risk'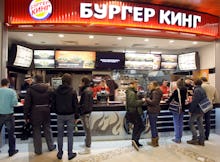 Burger King apparently shares Russian President Vladimir Putin's finely honed expansionist instincts as the company is swiftly moving in to fill the Big Mac-shaped void left behind by McDonald's hasty exit from Crimea.
Crimean residents may soon regain access to mass-produced burger patties, as the fast-food chain announced its plans of opening outlets there.  
"We are planning to open in Crimea, but I cannot say when exactly it will happen or how many outlets the company will have," Dmitry Medovy, the CEO of Burger King Russia told Itar-Tass on Wednesday.
McDonalds had shut down operations in the cities of Simferopol, Sevastopol and Yalta on April 4, citing "manufacturing reasons independent of McDonald's." While it repeatedly denied the withdrawal was prompted by Crimea's political unrest, according to the Moscow Times, McDonald's had "hinted" at "logistical difficulties" associated with Crimea's incorporation into Russian territory. The fast-food staff had the offer to relocate permanently to Ukraine, where they would be placed in the same job with the same salary, along with relocation costs.  
The Moscow Times offers a detailed rundown of the rivalry for burger supremacy in Russia, wherein the 24-year dominance over the fast-food market (since the days of the Soviet era) by McDonald's was threatened by Burger King's rapid ascent to the No. 2 spot in just four years since it first opened in a Moscow shopping mall.