Twitter Gives Air France's Racist New Ad Campaign the Makeover It Deserves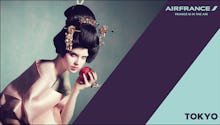 While touted by many as "fashionable," Air France's new advertorial campaign is also making heads turn for a less positive reason: The company's questionable images market global travel as a vehicle for cultural appropriation of racist proportions. 
On its website, the behemoth airline notes that the campaign, created by agency BETC, "consists of 6 visuals illustrating the services offered by Air France: the comfort of the A380, the new La Première cabin, the new Business cabin, gastronomy, the network and SkyPriority (priority channels at more than 1,000 airports). It is supplemented by 12 visuals depicting iconic destinations served by Air France (Paris, New York, Brazil, China, Japan, Africa, Italy, etc.)."
It's those supplemental visuals, however, that have landed the airline in hot water. As Asian-American feminist and activist Jenn Fang notes on Reappropriate, "If only you hadn't ended up with an ad campaign that actually features (mostly) White women wearing stereotypical racial and cultural drag to depict all those exotic non-Westernized countries."
So what exactly is the message? It's difficult to tell. Here, Air France appears to be saying either "White people, this is what happens to you when you travel to the African city of Dakar" or "Travel to Dakar and see white models in 'native garb.'" 
Image Credit: Air France
Thinking about a trip to Asia? Air France has you covered there, too. Here's apparently what you'll see when traveling to Beijing:
Image Credit: Air France
The image with the most complaints, however, is the ad for Tokyo, which portrays a white model in a modified geisha costume. While there is no explicit yellow-facing of the model (unlike the arguably more offensive Pekin ad above), there is a clear cultural appropriation that, like Katy Perry's 2013 American Music Awards performance, "plays into white fetishization of Asian women."
Image Credit: Air France
The story could have ended there, but in yet another example of the way social media has been harnassed to give a voice to marginalized communities, Twitter responded to the ads using the hilarious hashtag #FixedIt4UAF. Here are some gems:
And there's this version, via Colorlines, which just goes right to the heart of the matter:
Image Credit: Colorlines
By going editorial, Air France is guilty of what many designers do in the world of high fashion. The difference between multiculturalism and cultural appropriation is that the latter always relies on simplified stereotypes that fetishize other cultures. This fetishization is a direct consequence of a second difference between expressing or living multiculturalism and appropriating other cultures:The position of the white, Anglo race as one race among many versus the position of that race as the superior, "neutral" race that appropriates other cultures to make them "western" and therefore palatable.