OK, America: Can You Spot the Glaring Mistake on the Latest Rolling Stone Cover?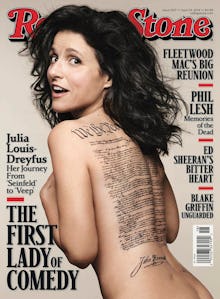 All right, eagle-eyed history geeks, we have a challenge for you. Julia Louis-Dreyfus' naked Rolling Stone cover has gotten a ton of attention this week, sparking a debate over how often female comics are expected to pose nude, and how in the world the actress looks more amazing every year (she seriously looks great).
But keen observers have pointed out that there is a small but glaring error on JLD's back, where the U.S. Constitution is scrawled. Can you figure out what's wrong with this picture?
Image Credit: AP
The answer: It features John Hancock's signature, which appeared on the Declaration of Independence, not the Constitution.
As the president of the Second Continental Congress, Hancock was the first person to sign the treasonous declaration. His bold, large signature became so well known that his name has become synonymous with signing a document. By the time the Constitution was written, Hancock was the governor of Massachusetts and had misgivings about the move toward centralized power. Still, he lent his support and helped the Constitution get ratified in his state.
Image Credit: Wikimedia
Though it's a pretty elementary mistake to confuse the two founding documents of the United States, Rolling Stone is going along with its error: "The Declaration of Independence is on the other side but we couldn't fit in all the signatures," said publicist Melissa Bruno.
Louis-Dreyfus is having fun with the blunder as well:
And of course, she's blaming it all on Mike McClintock, the incompetent press secretary to her character, Vice President Selina Meyer, on Veep:
Yes, it's always a pretty safe option to blame Mike for everything: