If You Look Closely, You'll Notice Zach Braff's New Movie Looks Just Like 'Garden State'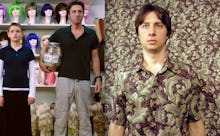 Take a look at this still from Zach Braff's new movie Wish I Was Here:
Image credit: YouTube 
Now, take a look at Zach Braff's old movie Garden State: 
Image credit: Blogspot
Notice any similarities? The characters camoflauged into background? The intense stare? The quirk? Are we on the same page? Alright, good. 
Somehow it's been 10 years since Braff's zeitgeist of a movie Garden State premiered. That's 10 whole years since Braff and Natalie Portman put their uniqueness on display and Peter Sarsgaard rode around in a sidecar, which means fans have been waiting 10 years for Braff's feature film follow-up. When Braff took to Kickstarter last year to ask for financial help in putting together this new project, fans were quick to offer their funds. Braff raised $3.1 million for the movie, with 46,000 donors contributing. The fruits of this funding and his labor, Wish I Was Here, debuted at Sundance this year, and this week a trailer for mass audiences is finally available. Garden State fans your wait is over. 
In the promo for Wish I Was Here, the Braff-ian style is on full display. In the same way a Wes Anderson movie is visually recognizable thanks to color palette, symmetry and quirky props there are a few easy ways for Braff fans to compare Wish I Was Here to Garden State. 
The story is more grown up and notably takes place on a different coast. Where Garden State took on 20-something malaise in New Jersey, Wish I Was Here tackles the 30-something version of the same brand of discontent by focusing on marital frustration and professional stagnancy in L.A. While the trailer doesn't give away much — it's mostly word-less — there are instant Braffi-isms at work that Garden State fans can't miss. 
The first similarity is The Shins soundtrack. The trailer is set to the band's "Simple Song." Garden State also featured The Shins' "Caring is Creepy" and "New Slang." 
The trailer also features some visual Garden State echos that fans should have no trouble spotting.
There are abysses to stare into: 
Image Credit: YouTube
Image Credit: Blogspot
And angsty screams of existential proportions: 
Image Credit: YouTube 
Image Credit: Blogspot
There are chaired-filled rooms to wait in: 
Image credit: YouTube
Image credit: Blogspot 
Pools to jump into:
Image credit: YouTube
Image credit: Blogspot
And choice head gear to wear: 
Image credit: YouTube
Image credit: Blogspot
The film did receive mediocre reviews after it was screened at Sundance for this very reason of Garden State comparison. Variety claimed the film "strains so hard to recapture Garden State's calculating but effective blend of whimsey and pathos that it nearly gives itself a hernia." Still judging by the feel of the trailer, the film will be a hit with all those Braff followers and Kickstarter contributors. 
Wish I Was Here co-stars Mandy Patinkin, Kate Hudson and Braff's Scrubs buddy Donald Faison. For nostalgia, and comparison, here's the Garden State trailer. 
Wish I Was Here premieres July 18.