A New Type of Bar Might Make the Iconic British Pub A Thing of the Past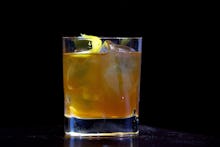 A raging nightlife without a drop of alcohol? That's what the U.K. is betting on, with a number of bars opening where people can socially quench their thirst sans inebriation. For a global youth culture obsessed with drinking — or, more accurately, binge drinking — alcohol-free bars are a seeming oxymoron to our generation. But perhaps they're something we should be considering a bit more seriously. I mean just think about it for a second: cheaper nights out, no hangovers, no age restrictions, you can safely drive home. Not to mention, they're a way for people who don't or can't drink to have a night out without temptation or discomfort. It doesn't sound all that bad. In fact, it sounds pretty good. 
British papers have long reported on the rise of dry bars, but this week the media is really touting them as a full-fledged trend. The movement in the U.K. gained significant traction last year with Redemption Bar in East London, a dry establishment founded by Catherine Salway who told the Guardian she left her job at Virgin Media "to pursue my own idea — something that was disruptive and socially conscious." While many of the U.K.'s dry bars are geared toward people who can't drink, British society as a whole seems to be steering away from their "heavy drinker" stereotype. These bars are folding nicely into that cultural shift. 
Image Credit: Instagram
While dry bars are on the upswing, they are obviously still not the norm. They might be media trendy but they remain part of a small and rather marginal IRL scene. That said, there are signs of growth both in the United States and the U.K.
Dublin has at least two dry nightclubs. Across the channel, French football star Franck Ribéry opened an alcohol-free bar in Boulogne-sur-Mer, while The Other Side got significant notice when it opened in suburban Chicago last year. In Melbourne, Australia, over 50 bars, cafes and restaurants participated in this year's FebFast, an annual event that encourages locals to cut alcohol, sugar, caffeine and digital screens. And in case you hadn't noticed, mocktails are on the rise. Brooklyn, honored as ground zero for so many trends and fads, still lacks its own popular dry bar.
While the odds of this catching on in a big way in the United States seem slim, the U.K. attention might turn a few heads. Still, introducing alcohol-free beers, wines, and drinks to the regular bar offerings seems more likely — something to liven up the menus of Cokes and Shirley Temples. But hey, if a late night craft soda bar opened up, I'd go.