Miley Cyrus Is Actually an Incredible Singer, and These Are the 7 Videos to Prove It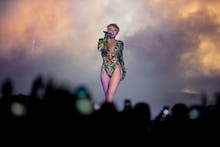 There's no denying the entire world has a love/hate relationship with Miley Cyrus, especially since the Great Twerk of 2013 at the VMAs about a year ago this month.
But when you strip down the shenanigans and deflate the inflatables of her infamous Bangerz tour, you'll find some real talent — Cyrus is actually an incredible singer, and these videos of her stripped-down performances prove it.
1. "Jolene" by Dolly Parton
Cyrus originally performed this as a duet in 2010 with Parton, who also happens to be her godmother.
The video shows Cyrus can handle country classics with ease beyond her years. Her rhythm, controlled delivery and perfect tone shine through in comparison to many of her Bangerz performances. 
2. "You're Going to Make Me Lonesome When You Go" by Bob Dylan
Dylan songs have the unique honor of being sung in Dylan's voice. Thus, when someone who can sing in a more conventional way takes them on, it's like they are reborn (see Adele's "To Make You Feel My Love").
Highlighted by a single bright guitar, she sings the melody with little production on her voice, a bold move for any vocalist. And she executes the number flawlessly. She even performed this in a similarly stripped-down version on her tour. 
3. "Wrecking Ball" by Miley Cyrus
We've all rolled our eyes at the music video for "Wrecking Ball," but Cyrus' live performance of her hit song is actually amazing.  
She executes her vocals in near studio perfection, a feat most pop divas cannot accomplish. Still, if you compare this performance to her album vocals, you'll notice that her recorded vocals aren't doctored either — that's just how she sings.
4. "Summertime Sadness" by Lana Del Rey
This is one cover that is far, far better than the original. Cyrus blows Del Rey out of the water, perfectly utilizing her natural vocal depth and rock steady pitch throughout this cover. She expertly flirts with her range on the bridge all the while drawing favorable comparisons to Del Ray's consistently shaky performances.
Cyrus' video even has 14 million views compared to the top-viewed live original, which peaks at 2 million.
5. "Lilac Wine" by James Shelton
Cyrus nails her sultry interpretation of this 1950s classic. Her strength as a vocalist is once again evident through her unflinching vocal control.
6. "We Can't Stop" by Miley Cyrus
Hands down, this rendition of "We Can't Stop" is its best version. 
Backed by the Roots and Jimmy Fallon, this intensely viral a capella version of a Cyrus original marks the first time most of us realized she could sing.
7. "All I Want for Christmas Is You" by Mariah Carey
Cyrus' 2007 performance of "All I Want for Christmas Is You" proves she can pull her weight against any pop diva.
Though this song is just as cheesy when she sings it as when you hear the original for the 17th time at the local grocery store, it's especially impressive to see how solidly her vocals hold up in her upper range.