7 Stephen Colbert Replacements — None Of Them Are Old White Men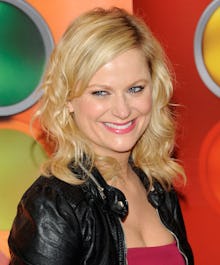 It's official: Stephen Colbert will be leaving Comedy Central to replace David Letterman as the host of The Late Show in 2015, meaning that the network will have a gaping hole to fill in its daily programming schedule. With John Oliver — the most obvious replacement for Colbert — now working for HBO, the network is going to have to find a new successor for the 11:30 pm time slot.
While people are already debating whether Comedy Central should give the slot to a different type of late-night show, years of watching both Stewart and Colbert work off of each other so brilliantly has left me convinced that another news-oriented talk show is the right choice for Comedy Central in the years ahead. And the 11-midnight slot works incredibly well as a solid hour of quasi-serious, satirical commentary on world affairs. Stewart pulls off one of the world's best straight-man-in-a-world-gone-mad acts of all time, but who could pull off the immense task of acting as his new foil?
1. Samantha Bee
Bee is an obvious choice for a new show, and she's long overdue for a promotion, having served an astounding 11 years as a regular Daily Show correspondent and founding some of its best-known skits like This Week in God. Her comedic timing is flawless and her on-the-scene "reporting" is a dead-on mockery of the real thing. As the Daily Show's longest-serving correspondent, her "gritty facial expressions and aggressive irreverence" as well as her chronically poorly-informed reports make her one of the richest characters on late-night TV. What's more, that 11 years of service hasn't dulled her wit one iota, and allowing a woman to run late-night for once could appeal to new demographics and challenge the male-centric world of comedy.
2. Aasif Mandvi
Another Daily Show veteran, Mandvi is familiar with viewers after eight years of serving as Stewart's "Senior Asian Correspondent," "Senior Middle East Correspondent," "Senior Foreign Looking Correspondent," and "Senior Muslim Correspondent." He's also consistently delivered amazing segments, including ones that actually hit harder than real-life reporting. Just look at the above interview with North Carolina county precinct GOP chair Don Yelton, which cost the man his job and seriously damaged how people nationwide felt about Republican voter ID efforts. It's probably the most impactful Daily Show segment ever made. And while Colbert's on-screen persona is self-effacing and knowingly ridiculous, Mandvi does the faux-reporting equivalent of Zoolander's "Blue Steel," never wavering or conceding the joke.
Strangely, despite being the second-longest-serving Daily Show correspondent, Splitsider doesn't seem to view him as much of a contender.
3. W. Kamau Bell
Bell's a proven late-night commodity, and his two-season run on Totally Biased received mixed reviews (but low ratings). With a better platform and time slot, as well as Comedy Central's impressive resources, Bell could perform much better this time around and bring his unique brand of diverse, race-conscious comedy to late night successfully. If Comedy Central wanted to keep a talk-show-and-skit format for the full hour but take a risk on a show that couldn't be found anywhere else on TV, Bell would be an excellent choice.
And he could bring some of his former on-air talent, like the amazingly funny Hari Kondabolu, to bring on as additions to the show's list of potential contributors or correspondents. (I bet they're looking for work.)
4. Kristen Schaal
Schaal is astoundingly funny, and her Daily Show contributions have been completely unlike those from the rest of the show's stable of regulars — like the above segment where she eviscerates Princeton Mom. Schaal is lively, funny, and capable of projecting a sense of thinly veiled anger through a faux-bubbly persona. And she'd be another stark alternative to another middle-aged white dude as a host, pretty much beaming with energy.
5. Amy Schumer
Inside Amy Schumer is hilarious, and her woman-on-the-street interviews show she's more than capable of standing toe-to-toe with pretty much anyone (as Entertainment Weekly observes, she seems as comfortable grilling a porn editor as she does a 108-year-old woman). Her show probably wouldn't look very much like either The Daily Show or The Colbert Report, but it might be just as funny and relevant.
6. Chris Hardwick
His social media game show @midnight is already doing well in the ratings, competing well with other offerings from the Big Three and holding Comedy Central's late-night schedule. And as a bona fide nerd, Hardwick would take the 11:30 slot in another direction entirely. The New York Post even facetiously suggested the network just move his show up a half an hour and keep the same title, sticking up a middle finger to naming conventions.
7. Amy Poehler
Like fellow SNL alum Tina Fey, Poehler might be a little too famous to want to settle for a late-night TV show. And yes, she's probably tired of reading faux-news after a couple years on Weekend Update. But dammit, can't we dream?