David Lamb and Brown Bird Represent Everything That Music Should Really Be About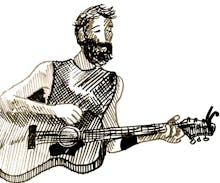 If you wanted to paint a picture of what it means to be a working musician in 2014, it wouldn't look like big record deals and trashed hotel rooms. It would look like real passion and love; dogged touring and small, tight-knit artistic communities. And, at its worst, it would look like leukemia without no health care and then crowd-funded medical treatment. It would look like the life of David Lamb of Brown Bird, a life that ended a little over a week ago.
Brown Bird was Lamb's creation, but a love story and an unrelenting work ethic kept it alive. One year on tour, he met a woman named MorganEve Swain. The two felt an instant musical chemistry, and soon they found a personal chemistry, too. In a letter on the band's website last week, Swain remembered their meeting "Four days after Dave and I met we became bandmates, lovers and business partners, and set the tone for what our life would be for the next six years." They began to make music as a folk duo. They moved into a house in Warren, R.I., and started recording. An artistic community coalesced around them — one that supported everyone's individually unsustainable dream. Soon, with the support of their community, they were touring more broadly. People began to notice their unassuming authenticity, and the purity of their own love and musical ambitions became an audience's love for them.
Together, they traveled lightly — Lamb on guitar and percussion, Swain on strings. They were musicians in the simplest form, and they were almost always working at their music. Behind their simple instrumentation was a palpable connection between the two. Brown Bird was just as much a loving partnership as it was a band. That's what drew people in. And the crowds got bigger — in 2011 they played the Newport Folk Festival. The next year, they played its main stage, their growing body of fans in tow.
There's something entirely unique about the Brown Bird fan base, though. They represented a whole shift in how people make music now: not for huge radio play or international tours, but for an almost familial connection to their closest fans. Somehow, through the sheer rootedness and directness of their own intentions, Brown Bird drew a community of people close around them. Lamb had the word "HOME" tattooed across his left hand, and he and Swain often returned to play with other Rhode Island bands either as a supporting act or merely a supportive presence. Out of their own love, the two musicians made a home that followed them wherever they went — an ever-broadening family.
But last year, Lamb started feeling ill on tour. That spring, he was diagnosed with leukemia. When the hospital bills became insurmountable, they put out a call to fans for help. As family members do, their fans came to help. They started a crowdfunding effort that raised enough money to pay off the bills.
But even with aggressive treatment and the support of fans from around the country, Lamb succumbed to the leukemia. In the year that he struggled with the sickness and its treatment, he never stopped writing music.
Over the past week, friends of Brown Bird celebrated his music at venues throughout the state as the news of his condition spread. The Low Anthem-revived Columbus Theatre in Providence featured a night of friends playing his music free and open to the public (in true folk form), and a commissioned piece of his music premiered in the work of local choreographers Ali Kenner Brodsky and Betsy Miller on the day he died. Til the end, he was the epitome of a modern working artist: a man committed to his community.
Last Saturday, in a letter on the band's website, Swain wrote that after a long, hard year David "peacefully let go" surrounded by friends and family.  Brown Bird became a one-person act again. But this week, in speakers across the country and music halls across Rhode Island, it's suddenly clear that it was always much bigger than that.