Haunting Sculptures Hiding in Unlikely Places Make a Bold Point About Climate Change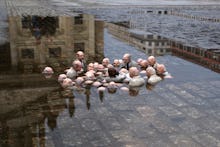 Artist Isaac Cordal's tiny sculptures are found in the most unlikely of places: on top of buildings, in alleyways, on gutters, at bus stops. They are found in nooks and crannies around the world, and the gravity of their meaning is far greater than their size.
The first outdoor "intervention" of the artist's Cement Eclipses series is from 2008. Since then, he's made approximately 60 "interventions" (Cordal's word for the installations), published two books and brought his work to countries around the world. Sometimes the sculptures stay in one space for long periods, other times he places them, takes a photograph and moves on. In every place and with every sculpture Cordal is making a point, or more pointedly asking a question: What are we doing to our world? 
Cordal's work is desolate, haunting and haunted, but that makes sense: He is fixated on environmental disaster and he uses his art, specifically his project "Waiting for Climate Change," to bring that potential future into sharp focus. In his work, small human figures seem to cope with a post-apocalyptic reality. According to the artist statement on Cordal's site, "The art work intends to catch the attention on our devalued relation with the nature through a critical look to the collateral effects of our evolution." It's safe to say, Cordal succeeds.
"Sonambule" - Nantes, France 
PolicyMic interviewed Cordal about the inspiration behind his work and his perception of human progress.
Kinsey Sullivan (KS): When did you begin creating these "interventions," and what is your inspiration?
Isaac Cordal (IC): I started to perform these interventions around 2006 in the street but much earlier for indoor spaces. I am inspired by different things: articles or books that I read, situations of everyday life and above all, the absurd idea of growth and progress that we have as human beings.
"Waiting for Climate Change" - Flemish Coast
KS: You've referred to the human growth and progress obsession as "absurd." Can you explain what you mean by that? 
IC: The idea of progress is intimately linked to our role as consumers, [and] the systematic exploitation of natural resources ... we should talk about "degrowth" more than proposed perpetual growth.
IC: [The] "Cement Eclipse" name is inspired by the skyscrapers that hide the sun, [and] obscure the city parks.
KS: What is the purpose of making the interventions so small? 
IC: I want to be able to move the pieces easily. The small scale allows me to transport the pieces in my backpack and quietly walk around the city. I find [it] interesting to create something that is small compared to the big sights. It is a celebration of the small. Real change is composed of many small changes intertwined.
"Cement Eclipes" - Nante, France 
I like the idea of small monuments, which tend to get lost in the skyline.
"Cement Eclipses" - Vienna, Austria
KS: Who are your artistic inspirations?
IC: The art of narratives is powerful, more than artists, I would highlight writers such as Robert Walser, Paul Virilio, John Fante, Jean Ziegler, J.M.G. Le Clézio, Stefan Zweig, Marc Augé.
KS: Your works are political and environmental in nature. Have you always been concerned with the relationship between people and their environments? 
IC: I think that just opening the window you can realize that something is wrong out there.
"Asceta" - San Francisco, CA 
IC: The city where nature is still present.
"Slowly Sinking" - Orebro, Sweden 
KS: What happens to your pieces after you leave them? Do they get taken by viewers or destroyed by city cleaners, or do you retrieve them later? If you retrieve them, how long do you leave the interventions?
IC: Normally I put the pieces in high places with the intention that it is not possible to catch them easily. Other times I make ephemeral installations more focused on getting a photograph. Both processes complement each other.
"Waiting for Climate Change" - Nantes, France - July 17, 2013 
All photos are Isaac Cordal's and used with permission.