The Cities With the Most Billionaires Have One Striking Thing In Common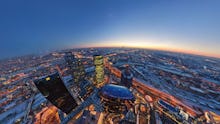 Where do the world's wealthiest people live?
According to the 2013 Wealth-X and UBS Billionaire Census, the first comprehensive study of the world's billionaire population, the average billionaire holds $78 million in real estate, owns four homes, each worth nearly $20 million and has lots of expensive luxury toys, the most common of which are yachts, private jets and works of art.
Despite boasting many uber-rich residents, these cities also account for a disproportionate share of overall economic growth and rising income inequality. Oxfam released a report in January stating that 85 of the richest people in the world control as much wealth as the poorest half of the world, highlighting the stark reality and depths of wealth inequality. 
Here are the top 10 cities that billionaires call home, and the stark inequality that plagues many of them:
1. Moscow
The Russian capital once again topped the annual list of billionaire-replete cities with 84 billionaires, up from 78 last year.
These super-rich individuals also have a net worth of more than $366 billion and include Russian steel tycoons Vladimir Lisin and Alexei Mordashov, and Roman Abramovich, the billionaire owner of Chelsea Football Club.
Image Credit: AP
Meanwhile, income disparity is becoming a big problem with 18.1 million people, nearly 13% of the Russian population, living below the national poverty line. 
Image Credit: AP
2. New York City
The last time New York City held the crown as the billionaire capital of the world was in 2009. Now settling for the No. 2 spot, the Big Apple boasts 62 of the United States' 442 billionaires, up from 57 last year, with a net worth of $380 billion. 
Image Credit: AP
According to the Coalition for the Homeless, more people are homeless now in New York City than at any time since the Great Depression. The city's homeless shelter population also continues to grow at an alarming rate — up 19% in the last year alone. 
3. Hong Kong (tie)
Tying with London for third place, Hong Kong has retained its title as the most popular Asian city among billionaires with 43 calling it home, up from 38 last year, representing a total net worth of $195 billion. For many of these individuals, "Home is a mansion with an expansive view from the heights of Victoria Peak."
Image Credit: AP
For some of the poorest in the city, however, home is a metal cage. 
Image Credit: AP
According to the Hong Kong Council of Social Services, nearly 1.19 million people lived in these kinds of cages in the first half of 2012, up from 1.15 million in 2011. 
4. London (tie)
London is home to 43 billionaires, up from 39 last year, with a total net worth of $159 billion.
Bishops Avenue in Highgate, North London, is known as "Billionaires' Row." Local real estate agent Trevor Abrahamson describes this as "a significant demonstration of state. If you live there, you don't need to explain to people that you're rich."
Image Credit: Mike Freedman via Flickr
According to London's Poverty Profile, the capital has almost 28% of people in poverty — seven percentage points higher than the rest of England — and has problems with young adult unemployment, low pay, poverty and homelessness. 
5. Istanbul
Istanbul hosts 37 billionaires who hold a net worth of $64 billion. While the European Capital of Culture grows as a "global city" with sleek new high-rises and global conferences, the city's rich-poor gap is widening. Istanbul's homeless population is estimated between 7,000 to 10,000 people.
Image Credit: AP
6. São Paulo
São Paulo is home to more billionaires than any other city in the Southern Hemisphere with 26 billionaires, up from 19 last year. The average fortune of a billionaire living in São Paulo is a whopping $4.6 billion.  
Image Credit: AP
However, close to a third of São Paulo's 11 million people live in slum-like conditions. An estimated 60 million people live in urban areas with little to no access to potable water, 14 million have no refuse collection service and roughly 83 million are not connected to any sewage systems. 
7. Mumbai
India's financial center, Mumbai, has 24 billionaires, including many of the country's industrial giants, such as Mukesh Ambani, India's richest man. Ambani owns a $1 billion, 27-story home. 
Alongside the financial center's opulent hotels and thriving Bollywood film industry are some of Asia's worst slums. 
Image Credit: AP
Formerly known as Bombay, the city is infamous for its widening rich-poor gap where roughly 62% of its population of more than 11 million people live in slums, including one of Asia's biggest, Dharavi, which is home to more than 1 million people.
8. Seoul
Eighth on the list is Asian giant Seoul, home to 23 of South Korea's 24 billionaires. One of the world's largest urban areas, Seoul is also home to massive real estate developments and major Korean firms like Samsung, Hyundai and LG. 
Image Credit: Grenn Sundeen via Flickr
The graying population responsible for this former battleground city's remarkable transformation to economic success, however, live in poverty. Almost half of South Korea's elderly live in impoverished conditions where the sight of "hunched seniors gathering scraps" is common on the street. Guryong slum, the largest settlement in Seoul, has about 3,000 residents, most of whom are elderly and living in poverty. 
9. Beijing
Beijing houses 21 of China's 157 billionaires, six more than last year. China also has the second-largest billionaire population after the U.S., with a net worth of $384 billion. Some of the Chinese capital's notable billionaires are Robin Li, founder of Baidu, China's largest Internet search site, and real estate maven Wu Yajun, the world's richest self-made woman.
Image Credit: AP
Despite China's booming economy, however, an estimated 200 million people still live below the poverty line, according the UN, which raises serious concerns about the country's rising wealth gap in society.
10. Dallas (tie)
Eighteen of the United States' 442 billionaires call Dallas home, up from 17 last year. Although the metropolitan city is known as one of the nation's most prosperous and fastest-growing, its residents are also "more likely to be impoverished than in any of America's 20 biggest cities."
Image Credit: Neff Conner via Flickr
Texas ranked eighth in the nation in poverty. About 17% of its population live in poverty. 
11. Paris (tie)
Tied with Dallas in 10th place is Paris, the global capital of luxury and fashion, which wasn't part of the the billionaire cities' list in 2012. Despite reports that France's wealthiest individuals are fleeing the country's proposed 75% tax rate on the rich, this city is home to 18 of the country's 24 billionaires, who have a net worth of almost $63 billion. 
Image Credit: Getty
Considered the "perfect example of acute inequality," about 13% of Parisians live below the poverty line. France is currently experiencing its highest rates of poverty since 1997. According to social policy consultants COMPAS, 8.7 million French people live below the poverty line.