A New Animated Batman Short Is Out, and the Dark Knight Is Still As Cool As Ever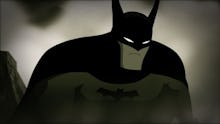 We've had a long time to debate who makes the best Bruce Wayne — 75 years, in fact. Whether you're pulling for Christopher Nolan or Tim Burton, George Clooney or Adam West, or Miller versus Brubaker versus Morrison versus Kane, the Dark Knight of Gotham and the whole Bat Family of sidekicks, allies and villains have built up an amazing mythology that's been compelling readers, moviegoers and TV-watchers for generations.
DC Comics is calling on all of its old friends to celebrate this diamond anniversary, including the makers of what many '90s kids will say is legitimately the best Bat of all: Batman the Animated Series, whose creators have come back with an animated black-and-white short, "Strange Days," that epitomizes the maturity, adventure and storytelling we've always loved about the character and the show.
The phenomenally noir short, a throwback to the visual and storytelling style of 1939, features one of Gotham's first supervillains, Dr. Hugo Strange. "I've always wanted to do Batman as a literal period piece," said producer and legendary animator Bruce Timm, who let DC All Access in on the process behind his detailed storyboards and how he created the short's amazing atmosphere.
What's next for DC's Wayne-related empire? We've all heard about Ben Affleck's upcoming turn behind the mask for Zach Snyder's Batman vs. Superman, but the world of comics isn't waiting that long to show us more. Batman Eternal, a new comic book title launching this month, is taking turnaround time to a different level by releasing new issues on a weekly basis.
"The appeal for me with doing a weekly series was doing a book that moves so fast that we could actually tell a ton of stories from Catwoman to Batgirl and the mayor to the Gotham Gazette, just everyone," said series writing team leader Scott Snyder. "We want this to go really big, which week by week changes the way Gotham looks, feels, is."
Some 75-year-olds slow down and rest on their laurels after a distinguished and influential career. Batman looks like he's just getting started.