A Billion People Have Seen This Famous Desktop Photo — But Who Snapped the Picture?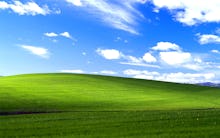 If you've used Windows XP, you've seen this image. But you probably never thought to consider the story behind it.
The operating system's default wallpaper, "Bliss," has been seen by over a billion people since XP's 2001 release. Even as Microsoft ended legacy support for the software last week in an attempt to encourage users to upgrade their systems, it still ranks as the second-most-used operating system of all time with 28% of desktop share.
Photographer Charles O'Rear explains how he snapped the iconic image below:
The idyllic image is completely unaltered and was taken in Sonoma County in northern California (that's wine country, but the hill was unplanted at the time) in 1996:
There was nothing unusual. I used a film that had more brilliant colors, the Fuji Film at that time, and the lenses of the RZ67 were just remarkable. The size of the camera and film together made the difference and I think helped the Bliss photograph stand out even more. I think if I had shot it with 35 millimeter, it would not have nearly the same effect.
Here's that same approximate location today covered in grapevines, taken by photographer Simon Goldin:
It's inspired tributes and was prominently in a $200 million advertising campaign which aired all the way back in 2001:
O'Rear explains that the original site was then accessible primarily by some dangerous, winding roads, and relates that Microsoft considered the photograph so valuable that he had to hand-deliver it to their offices (a courier service just wouldn't touch it thanks to the liability).
"Anybody now from age 15 to the rest of their life will remember this photograph," says O'Rear. "I'm thrilled to know that people have had pleasure from looking at that, from looking that a photograph that I made."