Protesters and Police Are in an Armed Standoff in Nevada Right Now — Here's Why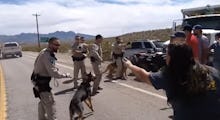 "Get off our land, period. Give us back our property," said Ammon Bundy, whose father claims his family has the right to allow hundreds of cattle to graze on land owned by the federal government.
Call it the cattle battle. Armed protesters have shown up en masse with unarmed comrades to protest the seizure of a Nevada farmer's cattle — and for now, they appear to have forced a team of federal agents to back down.
Cliven Bundy, a 58-year-old rancher, has fought the federal Bureau of Land Management for two decades over his use of public lands for cattle grazing. The feds say Bundy's refusal to pay cattle-grazing fees since 1993 on about 600,000 acres of public land called Gold Butte has racked up over $1 million in debt. Earlier last week, the battle culminated in a federal order to round up 900 of Bundy's "trespass cattle" and remove them from the property in question. Heavily armed federal agents supervised contracted cowboys paid to drive the cattle off and the public area of the property was to be closed until May 12.
Cliven Bundy outside his ranch house in Mesquite, Nevada. Image Credit: Getty
But the appearance of hundreds of protesters, many armed with guns of their own, led the feds to conclude the safety of the public and their personnel was at risk. The operation has been temporarily shut down as of Saturday while the feds take time to reconsider their next move.
Bundy thinks he has emerged victorious, telling the Blaze "Who is the trespasser here? Who is the trespasser on this land? Is the United States trespassing on Clark County, Nevada, land? Or is it Cliven Bundy who is trespassing on Clark County, Nevada, land? Who's the trespasser?"
Video from the scene shows federal agents and local officers locked in a tense standoff with protesters, culminating in Bundy's son being tasered.
"The battle's been going on for 20 years," Bundy told the Washington Free Beacon. "What's happened the last two weeks, the United States government, the bureaus are getting this army together and they're going to get their job done and they're going to prove two things: They're going to prove they can do it, and they're gonna prove that they have unlimited power, and that they control the policing power over this public land. That's what they're trying to prove."
But an Ohio lawyer familiar with the case, Jeremy Hudia, says Bundy is on thin ice.
"Historically, ranchers would let their cattle graze on public land, and the government didn't stop them," Hudia comments. "Back in the 1930s, however, the land was being harmed by all the uncontrolled grazing. So laws were passed to create a permit process to control the amount of grazing. There is no 'right' to use public land for one's personal gain. If that were the case, I would start drilling for oil in Yosemite National Park."
While the feds have left for now, Bundy has his work cut out for him. They'll be back.