This Was a Man's Court-Ordered Punishment for Bullying Disabled Children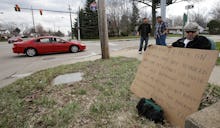 Residents of South Euclid, Ohio, were treated to a curious sight this Sunday when they came across a man sitting at a street corner with a huge sign: "I AM A BULLY! I pick on children that are disabled, and I am intolerant of those that are different from myself. My actions do not reflect an appreciation for the diverse South Euclid community that I live in."
The man in question, Edmond Aviv, 62, had been found guilty in court of harassing his neighbors for 15 years. According to Sandra Prugh, his neighbor, Aviv had been targeting her adopted children with abuse: several of them happened to be black, and some had developmental disorders, physical disabilities or both.
Prugh said it all began back in 1998 when Aviv spat at her on the street. But the hostility quickly reached sinister levels. In court, Aviv was accused of yelling ethnic slurs, trying to run down Prugh's wheelchair-bound daughters with his car, directing spotlights at Prugh's windows at night and spreading dog feces on Prugh's wheelchair ramp and on her son's car. Most recently, Aviv was accused of blowing kerosene at Prugh's house.
"You wonder every time you walk outside, you turn to your left to see if your neighbor is there spitting, yelling, screaming at you and you don't know why," said Prugh.
It took five court appearances over the years for Aviv to finally be punished. In March, Aviv was charged with fourth-degree disorderly conduct and sentenced to 15 days in jail, seven months' probation, 100 hours of community service, anger management classes and mental-health counseling. In addition, he had to write a public letter of apology to Prugh in a newspaper — and hold the shaming sign at a street corner for five hours, as drivers honked their horn and passers-by yelled at him.
"I would hope that what's been achieved here is finally the modicum of justice that they had been hoping for for quite some time," said Judge Gayle Williams-Byers, who sentenced him.
Image Credit: AP
But it looks like Aviv may not have had learned his lesson. "The judge destroyed me," he said after finishing his sign duty. "This isn't fair at all."
In his court-ordered apology letter, he expressed a bit more remorse at his actions: "I want to express my sincere apology for acting irrationally towards your house and the safety of your children. I understand my actions could have caused harm but at that time I was not really thinking about it," he wrote.
And there are those who also believe that the punishment does not fit the crime — because it was not enough. "I'm disturbed. I think that we as a community need to ask some questions," said South Euclid Councilwoman Ruth Gray, saying Aviv should have faced more severe charges.
But for Prugh and her family, they just want to put everything behind them.
"Move on with your life, hopefully they can move on with their lives, and we can live in peace," said Prugh.