The Complete List of American Cities Where the KKK Is Known to Operate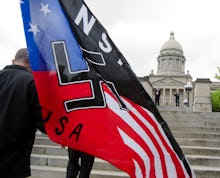 On Sunday, three people were shot dead at two Jewish community centers in the Kansas City area. It's believed that the suspect — identified as Frazier Glenn Cross, Jr., 73 — was once the grand dragon of the Carolina Knights of the Ku Klux Klan (KKK).
The incident is a sad and disturbing reminder that the KKK still functions actively all over the United States. The group, founded in 1865, has a long history of violence mainly targeted at African-Americans, Jews, immigrants and members of the LGBT community.
The Southern Poverty Law Center (SPLC), which monitors hate groups, called the KKK "the most infamous — and oldest — of American hate groups." The KKK's website states that the organization's primary goal is to "stop White genocide." They write, "We simply believe that the United States of America was founded as a white Christian nation."
Project Censored wrote that the Internet has enabled hate groups to recruit and spread their beliefs more readily than in the past. SLPC estimates that there are between 5,000 and 8,000 active KKK members in the U.S. 
Below is SPLC's list, by state, of known U.S. cities where the KKK operates and the corresponding chapter in that city. (Note: These are not the only places where the KKK operates — these are the cities identified thus far.)  
Alabama
1. Pinson: International Keystone Knights of the KKK
2. Birmingham: Loyal White Knights of the KKK
3. Ashland: United Klans of America 
4. Red Bay: North Mississippi White Knights Of The Ku Klux Klan
Arkansas
5. Concord: Knights of the Klu Klux Klan
6. Harrison: Knights of the Klu Klux Klan
7. Little Rock: Knight Riders Knights of the Ku Klux Klan
8. Vanndale: International Keystone Knights of the Ku Klux Klan
9. Harrison: Soldiers Of the Cross Training Institute; Knights Party Veterans League
Colorado
10. Eckert: Loyal White Knights of the Klu Klux Klan
Florida
11. Fort Myers: Knight Riders Knights of the Ku Klux Klan
12. Live Oak: Knight Riders Knights of the Ku Klux Klan
13. Cape Coral: Ku Klos Knights of the Ku Klux Klan
14. New Smyrna Beach: Loyal White Knights of the Ku Klux Klan
15. Christmas: Fort Christmas Knights Ku Klux Klan
Georgia
16. Rockledge: United Northern and Southern Knights of the Ku Klux Klan
17. Brunswick: Knight Riders Knights of the Ku Klux Klan
18. Rochelle: Knight Riders Knights of the Ku Klux Klan
19. Byron: Knight Riders Knights of the Ku Klux Klan
20. Ellijay: Knight Riders Knights of the Ku Klux Klan
21. Blairsville: International Keystone Knights of the Ku Klux Klan
22. Young Harris: International Keystone Knights of the Ku Klux Klan
23. Newnan: New Empire Knights of the Ku Klux Klan
Iowa
24. Ames: New Empire Knights of the Ku Klux Klan
Illinois
25. Chicago: United Northern and Southern Knights of the Ku Klux Klan
26. Eldorado: Knight Riders Knights of the Ku Klux Klan
27. Lemont: Knight Riders Knights of the Ku Klux Klan
28. Bloomington: Loyal White Knights of the Ku Klux Klan
Indiana
29. West College Corner: United Northern and Southern Knights of the Ku Klux Klan
30. Elwood: International Keystone Knights of the Ku Klux Klan
31. Monroe City: Ku Klos Knights of the Ku Klux Klan
32. Kokomo: Ku Klos Knights of the Ku Klux Klan; Loyal White Knights of the Ku Klux Klan
33. Scottsburg: New Empire Knights of the Ku Klux Klan
Kentucky
34. Munfordville: Ku Klos Knights of the Ku Klux Klan
35. Glens Fork: Loyal White Knights of the Ku Klux Klan
36. Corbin: New Empire Knights of the Ku Klux Klan
Louisiana
37. Slaughter: Fraternal White Knights of the Ku Klux Klan
38. Walker: Dixie Rangers Knights of the Ku Klux Klan
39. Converse: Aryan Nations Knights of the Ku Klux Klan
Maryland
40. Baltimore: Confederate White Knights of the Ku Klux Klan
Michigan
41. Fraser: United Northern and Southern Knights of the Ku Klux Klan
42. Beal City: New Empire Knights of the Ku Klux Klan
43. Gladwin: Invisible Knights of the Fiery Cross
Missouri 
44. Potosi: Traditionalist American Knights of the Ku Klux Klan
45. Branson: New Empire Knights of the Ku Klux Klan
Mississippi
46. Petal: Mississippi White Knights of the Ku Klux Klan
47. Brookhaven: Mississippi White Knights of the Ku Klux Klan
48. Star: Mississippi White Knights of the Ku Klux Klan
49: Jackson: Mississippi White Knights of the Ku Klux Klan
50. Pearl: Mississippi White Knights of the Ku Klux Klan
51. Meridian: Mississippi White Knights of the Ku Klux Klan
52. Philadelphia: Mississippi White Knights of the Ku Klux Klan
53. Bruce: Mississippi White Knights of the Ku Klux Klan
54. Shannon: Mississippi White Knights of the Ku Klux Klan
55. Lucedale: Fraternal White Knights of the Ku Klux Klan
56. Dumas: North Mississippi White Knights Of The Ku Klux Klan
Montana
57. Great Falls: United Klans of America
North Carolina
58. Lenoir: Ku Klos Knights of the Ku Klux Klan
59. Benson: Loyal White Knights of the Ku Klux Klan
60. Burlington: Loyal White Knights of the Ku Klux Klan
61. Roanoke Rapids: Loyal White Knights of the Ku Klux Klan
62. Pelham: Loyal White Knights of the Ku Klux Klan
63. Eden: Loyal White Knights of the Ku Klux Klan
64. Charlotte: New Empire Knights of the Ku Klux Klan
65. Durham: New Empire Knights of the Ku Klux Klan
66. Kings Mountain: Christian Knights of the Ku Klux Klan
New Mexico
67. Silver City: Loyal White Knights of the Ku Klux Klan
New York
68. Plattsburgh: Fraternal White Knights of the Ku Klux Klan
Ohio
69. Amelia: Fraternal White Knights of the Ku Klux Klan
70. Cleveland: International Keystone Knights of the Ku Klux Klan
71. Dayton: New Empire Knights of the Ku Klux Klan; Mystic Knights Of The Ku Klux Klan
Oklahoma
72. Shawnee: United White Knights of the Ku Klux Klan
73. Oklahoma City: United White Knights of the Ku Klux Klan
74: Tulsa: United White Knights of the Ku Klux Klan
Pennsylvania
75. Beaver Falls: Ku Klos Knights of the Ku Klux Klan
76. Oil City: Ku Klos Knights of the Ku Klux Klan
77. Friedens: Loyal White Knights of the Ku Klux Klan
78. Girardville: East Coast Knights Of The True Invisible Empire
South Carolina
79. Spartanburg: United Northern and Southern Knights of the Ku Klux Klan
80. Abbeville: New Empire Knights of the Ku Klux Klan
Tennessee
81. Woodbury: Fraternal White Knights of the Ku Klux Klan
82. Nashville: Knight Riders Knights of the Ku Klux Klan
83. Shady Valley: Knight Riders Knights of the Ku Klux Klan
84. Memphis: Ku Klos Knights of the Ku Klux Klan
85. Johnson City: Ku Klos Knights of the Ku Klux Klan
Texas
89. Pasadena: White Camelia Knights of the Ku Klux Klan
90. Cleveland: White Camelia Knights of the Ku Klux Klan
91. Dallas: Knight Riders Knights of the Ku Klux Klan
92. New Braunfels: United White Knights of the Ku Klux Klan
93. Beaumont: United White Knights of the Ku Klux Klan
94. Abilene: United White Knights of the Ku Klux Klan
95. Omaha: United White Knights of the Ku Klux Klan
96. Houston: Traditionalist American Knights of the Ku Klux Klan
97. Bryan: Traditionalist American Knights of the Ku Klux Klan
98. Waco: Traditionalist American Knights of the Ku Klux Klan
99. Lone Oak: Traditionalist American Knights of the Ku Klux Klan
100. Greensville: Traditionalist American Knights of the Ku Klux Klan
101. Mt. Pleasant: Traditionalist American Knights of the Ku Klux Klan
102. Gatesville: Ku Klos Knights of the Ku Klux Klan
103. Livingston: Lone Wolf Brigade Knights of the Ku Klux Klan
104. Longview: New Empire Knights of the Ku Klux Klan
105. Dallas: New Empire Knights of the Ku Klux Klan
106. Dekalb: Crusader Knights of the Ku Klux Klan
Virginia
107. Abingdon: Knight Riders Knights of the Ku Klux Klan
108. Portsmouth: Loyal White Knights of the Ku Klux Klan
109. Staunton: Loyal White Knights of the Ku Klux Klan
West Virginia
110. Hurricane: New Empire Knights of the Ku Klux Klan