Monica Jones Was Arrested for "Walking While Trans." Now Thousands Are Fighting Back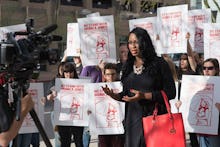 In the Grand Canyon state, "walking while trans" may very well be a criminal act.
That was the message sent last Friday by the Phoenix judge who convicted transwoman Monica Jones of "manifesting prostitution" following her arrest by undercover police officers in May of 2013.
The law used to convict Jones, Phoenix Municipal Code 23-52, defines prostitution as a public act that "manifests an intent to commit or solicit an act of prostitution." The circumstances that can be used to prove intent include repeatedly beckoning, engaging in conversation with passersby and attempting to stop motorists. But of course, "intent" is determined by authorities, not by the person committing the act. And the Arizona ACLU notes that the difference between "innocent" and "criminal" behavior often comes down to how a person looks.
Jones and her supporters claims she is innocent, guilty of little more than being an outspoken, openly transgender opponent to an overly broad statue that enables officers to arrest woman for no other reason than asking if they are police. The law is used to feed people to Project Rose, a city-wide dragnet that detains individuals in an effort to "help sex workers escape their sordid lifestyle."
Jones, a college student and activist, claims that after she was arrested she was taken not to the police station, but to the basement of a church that partners with Project ROSE. Established in 2011 in collaboration with Arizona State University's School of Social Work — where Monica is a student — Project ROSE is a highly-controversial program that seems to be blurring the divisions between church and state by infusing christian morality into the law.
As described by the Sex Workers Outreach Project (SWOP), Project ROSE sends out police officers to "detain community members that are suspected of being sex workers."
In addition, SWOP alleges that Project ROSE confines detained individuals to a room without access to a defense attorney and threatens them with criminal charges if they don't agree to participate in a diversion program run by Catholic charities that can last as long six months.
A transwoman of color, Jones was almost certainly profiled by the police as a sex worker. SWOP Phoneix and Jones argue that she was specifically targeted because she spoke out about Project ROSE at a protest rally the day before her arrest. 
Image Credit: Facebook
"I'm in that area every weekend, so it's not like no one had ever seen me before," Jones said. "I'm 6'2" and I stick out in a crowd, but nothing like that has ever happened to me. I believe I was targeted for being outspoken about Project ROSE, a program that takes away agency and targets women in poverty. Many sex workers live in poverty and so do many trans women of color, who the police associate with sex work whether it's true or not. So you have two agencies — the police department and diversion programs — working together to target low-income women."
Harassment, targeting both cis and trans women, is a tool that restricts female freedom of movement. So too is the idea that sex workers need to be "saved." 
Jones, who is so far sentenced to serve in a men's facility, will appeal the court's decision. But she is clearly determined not to go down without a fight. Thousands of supporters have signed a Change.org petition advocating her case. The Arizona ACLU is still fighting to potentially keep her out of prison, and on social media, the #StandWithMonica hashtag is gaining momentum quickly, helped in no small part by the support of celebrity activists like Janet Mock and Laverne Cox, who spoke about Jones during her acceptance speech at the recent GLAAD Awards.