You Could Be Seeing Your Next Movie in 4-D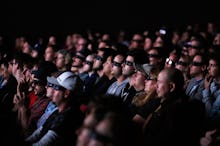 It's quite possible that the biggest movie events of the future won't be blockbusters: They'll be 4-dimensional movies.
What's a 4-dimensional movie, you ask? It's a cinematic experience meant to fully immerse moviegoers in the world of the movie they're seeing. There are moving chairs, neck ticklers, smells and water vapor. If it's a torrential downpour in the movie, prepare to get a little wet; if there are rats scampering across a back alley on the movie screen, prepare for a leg tickle.
These 4-D experiences might sound like the stuff of theme parks, but already some average movie theaters in the U.S. are integrating, or at least toying with the idea of integrating, 4-D capabilities. A 4-D ready theater is scheduled to open this summer at Regal Cinemas' L.A. Live. If you ask us, it sounds like big bucks and a genius, if slightly desperate, attempt at filling up movie theaters once again.
If you hadn't noticed, thanks to the overabundance of screens in our lives, movie-going has taken a hobby hit. In 2013 alone, the number of frequent moviegoers between the ages of 18-24 took a nosedive, dropping by 17%. Chris Dodd, the head of the Motion Picture Association of America, acknowledged the decline in an address at CinemaCon last year, telling theater owners, "We need to keep exploring fresh ways of leveraging our new technology to drive traffic to your theaters." And with the promise of 4-D movies on the horizon, they may have done it — in a slightly Disneyfied way, anyway. 
Unlike in a 3-D movie, where a villain will come flying out of the screen toward you, in a 4-D movie, the villain will come flying toward you and you'll feel a rush of wind. Four-D is a more intense version of 3-D, which in turn is a more intense version of normal 2-D film-watching. As Dodd said, this may be just the leveraging of new technology theater owners may need.
This is, of course, not the first time the film industry has gone to great lengths to keep audiences interested — think 3-D and IMAX. While IMAX movies are still used to great visual effect, the steady decline of 3-D movie popularity over the last few years makes it feel like a bit of a fad. Remember how celebrated Avatar was for being 3-D? Remember when just five years, later no one cared that movies like The Great Gatsby were 3-D?
Four-D-capable cinemas have already become popular in foreign markets like Latin America, China and South Korea, and it's likely that they'll have the same mainstream draw in America. It's an experience that's just what the movie business needs — something unique that will actually make audiences get off the couch (and their phones) and go to the movies.
We'll see how the first U.S. 4-D theaters fare. There are worries about the high cost of tickets and decreasing sales of profitable popcorn and soda (who wants that when you're moving around and being rained on?), but it's possible that this could become the movie-going experience of the future.
Maybe one day our kids will see 2-D and even 3-D like we see black and white: old, unrealistic and foolishly outdated.