The Netherlands Has Unveiled the Road of the Future, and It Looks Straight Out Of 'Tron'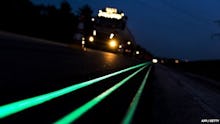 A road in the Netherlands now looks exactly like Tron. We're not kidding. A recently-unveiled 500m stretch of highway in the northern European nation has been upgraded to include light-absorbing glow-in-the-dark paint. The result is this mesmerizing, glowing road completely devoid of streetlights:
Designer Daan Roosegaarde of Studio Roosegaarde provided these images showing what the project looks like as well:
The special paint job was originally meant to include special features like glow-in-the-dark snowflakes that would only activate during low temperatures, but those were cut out of the plan before implementation. 
"One day I was sitting in my car in the Netherlands, and I was amazed by these roads we spend millions on but no one seems to care what they look like and how they behave. I started imagining this Route 66 of the future where technology jumps out of the computer screen and becomes part of us," Roosegaarde said in 2012.
Heijmans, the construction company that worked with Roosegaarde to make the concept images a reality, wants to expand the project and convert more roads. The photo-luminescent paint is both cheaper than traditional lighting and an arresting aesthetic upgrade. Roosegaarde believes meddlesome local government has delayed innovative projects like his using permit applications and hefty approval requirements. Trials like the 500m strip of his photoluminescent road signs, he says, are being delayed unnecessarily.
"There needs to be a call to ministers all over the world — this is a problem, and we should not accept it," he claimed. "We should create labs in the city where we can experiment and explore these kinds of solutions. Like a free zone. We want to do it safely, but just give us a park [for the smog project] and we'll prove it to you. Be more open."
While the road certainly looks amazing, there are bound to be drawbacks. The Verge pointed out that the paint could chip or wear away, making the new design less effective than traditional high-powered streetlights. There's also the question of whether the paint will lose its luminescence over time, and if so, whether re-applying it will be a costly process. Finally, what happens if it's cloudy out? The glow reportedly lasts for eight hours after being powered between dawn and dusk, but a rainy day could leave the highway totally unilluminated in the dark of night.